Fred is our guest poster today. His wise words are below. Two quick things before we get there:
As long as people think like
this
, this blog will always have a noble pursuit in stopping them.
oh hey also i've added two new people to the guest post schedule, possibly more to follow...see the updated schedule back at the
original post
.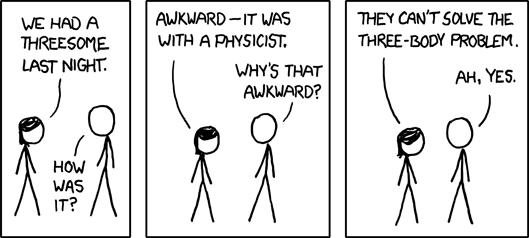 So, after enjoying this blog and its vitriolic criticism of XKCD for ages, I was all geared up and ready to guest post a scathing review of whatever drivel Randall would ooze out this time. But then a funny thing happened. As I sat down in front of my keyboard, I suddenly realized that Randall was a human being, and so I contacted him on MSN, and now we're going to have ice cream and play in the MIT fountain next week, because that's totally okay now that we're adults and can define our own rules about what adventure means.
Okay, that's basically all a lie. I went to XKCD with glee this morning, hoping for something that reached a new level of shark-jumping and fan-pandering, but instead we had ANOTHER DAMNED SEX COMIC.
Let's see. We have two people of opposite gender talking causally about group sex because people are totally not awkward about that. (I'm imagining that the woman is Megan, by the way, because then I can imagine that the other guy is Randall and that Megan keeps bringing up her promiscuity and sexual adventures to Randall and Randall has to act all casual about it while instead he's consumed with jealousy on the inside.) There's little else to say about the art, because there is none.
Instead, we only have the joke. It's a physics joke, which means it falls under the third of XKCD's four traditional pillars, because we all know that physics is just applied mathematics which is better than anything. The joke, of course, is how the three body thing both applies to a threesome and is some physics problem I had to look up on Wikipedia. If you read that Wikipedia page, by the way, you'll notice two things: first, that you still won't know what the n body problem is if you aren't already a physicist, and secondly, that there's no "In popular culture" section with a link to this comic, yet. Are they learning? Let's all pray it is so!
Anyway, the joke is probably worth a smile if you know about the n body problem, and if it was one of the first 300 XKCD's or so and not another one in a large row of lame sex jokes. But hey, if you've just discovered XKCD, it might be fun. That's all there really is to say about it: it's not great but it's not horrible either. If we're in want of something frustrating and annoying, though, the XKCD forums never fail.
(By the way, I was reading the forums this morning and saw the thread from this comic, and thought "Oh man, they really think like this? That is so going in my guest post." And then I saw that Carl linked to the thread in his placeholder thing, with a comment about how there's still work to be done for this blog us if people actually think like that. His link didn't go to any specific post, for me, but I'm pretty sure I know which one he meant SO THANKS FOR STEALING MY THUNDER, CARL.) [Ha ha, fuck you Fred! i am crafty little bastard. also I updated the link to a specific post, i am sure it is the one you meant --Carl]

Here we go. The very first reply is by pimanrules already wondering why there are so many sex comics lately. You don't want to know, pimanrules. sirtaco expresses a similar sentiment.
Pazi feels a need to share his enjoyment of group sex with the rest of the forums, but calls it polyamorism because that makes him look more interesting.

I don't get what 10nitro meant to say in his first paragraph at all.

obituary posts the post that makes my blood boil, and I suppose this is what Cheezy Wheeler also meant to link to. obituary doesn't get the comic, but hey, it's a sex comic so that's always good. The same goes for Eternal Density. NO, people. You DON'T DO THAT. YOU DON'T ENCOURAGE RANDY TO JUST CHURN OUT A BUNCH OF LAME SEX COMICS, DAMMIT.
I'm suspecting Simon17 to be a closet XKCD Sucks afficionado, because he's not only complaining about the lack of effort in what could be an otherwise decent joke, and berates the people who don't get the joke but sex lol.
I'm noticing an already explosive amount of trolling in the comments for the placeholder post, by the way. I suppose the fans didn't really have anything to discuss and the wikipedia page got locked, or something, so they decided to come here to troll the fuck out of us. Don't falter, guys. Remember the ass turds!
Anyway, that's all there is to say, really. It's committing all the basic sins of new XKCD: lame art, unnecessary dialogue after the punchline, and a joke that has the potential of fun if a little more effort was put in the comic.
On a positive note: there's no real head levitation here. Guy's head is teetering rather precariously on his pointy shoulders in the last two panels, but it's technically still connected as far as I can see. Also, with all our complaining of Randall talking about how something awesome happened instead of showing it, I for one am thankful that he neglected to show anything this time. I can't really imagine the horrible mess of tangled lines and circles that would have been, but I'm sure there'd be cunnilingus too, ladies.