Today's guest poster is PERSON #1. have fun guys.
Hello everyone. It's me,
randall
Person #1! In todays exciting post I will be reviewing the latest xkcd comic! Let's just look at it first: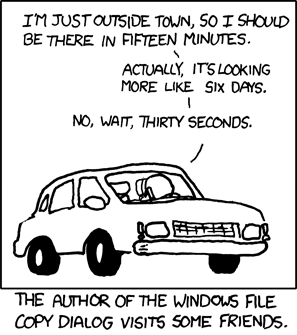 Oh. Ergh.

Awesome, randall. A windows joke. About the file dialog. Yeah, that's never been done.

Before I start reviewing, I want to post a little log of me and my friend rune:

(10:54:11 AM) Me: oh
(10:54:14 AM) Me: i just remembered
(10:54:19 AM) Me: I'm guest posting on xkcdsucks today
(10:54:23 AM) Me: i hope todays xkcd sucks
(10:54:38 AM) Rune: ...k, i have no idea what xkcd is
(10:54:45 AM) Me: http://xkcd.com/
(10:54:54 AM) Me: actually
(10:54:58 AM) Me: you might not want to go there
Yes, I have found the one person who has never heard of xkcd. And I ruined him. Whose side am I on anyway?
Well anyway, the comic - I have kind of mixed feelings about it. On the one hand, the joke is well-executed and there aren't any excess panels. It's somewhat funny, even. Didn't make me laugh, but it's not as bad as, say, firefly fanfic. There is semi-good art by the standards of xkcd, though it could really use a background, it looks like the car is standing like this. But I forgive you, randall. It's not necessary for understanding the joke, so I will allow you this ridiculous level of minimalism you like to strive for.
Now, on the other hand, it's a Windows joke.
Another
Windows joke. About something that has been made fun of since Windows 95. Congratulations, Randall. Your humor is over a decade old. I was trying to find some examples of other comics doing similar jokes, but I couldn't find any. Maybe I suck at googling, or maybe other comics have
self-restraint
. Yesterday I said that xkcdsucks was turning into a sitcom, but I think the same might be true for xkcd. Old jokes, heavy recycling of material and weak fucking dialog.
Speaking of recycling of material, has anyone noticed that in this comic
people behave like machines
? That has never been done before in xkcd. Take the functionality of a machine, apply it to a person, and you get humor. It's Munroe's Law! A guaranteed xkcd classic!
Let's see what the forumites have to say about this;
fenrir_darkwolf:
Just got an external hard drive and am putting up with a lot of this right now... Yet again good job on reading my mind Randall.
Haha, what? How is this the first time he encountered a joke/humorous remark about that? I really didn't expect any "get out of my head" on this one.
Then a bunch of praises to randall and to themselves for how "look at me, I'm really really geeky" they are. (Which is pretty normal for randy's fanbase) Alright, the forumites are boring.
The alt-text:
They could say "the connection is probably lost," but it's more fun to do naive time-averaging to give you hope that if you wait around for 1,163 hours, it will finally finish.
Oh, uh, okay? This is classical randall-observational humor. Observe, retell, hope it's funny without a joke anyway.
Alright, that's all I have to say. Quite more than I expected, I hope I didn't bore you.