oh hey guys, look, randall just discovered sex for the first time again. I assume. It certainly explains his
recent
fascination
with the
topic
. This one features, yet again, graphic stick figure man-on-woman oral sex, which seems to be all the graphic sex he can draw, oddly. Though he makes up for it by drawing it
far
more often than I am comfortable with. Oh my, Randall is so awkward about sex, and he doesn't want to be to be seen as so terribly un-PC that he would draw a woman blowing a man, because
heavens
that is sexist or something. Randall tries to hard to be unsexist, and it shows, so very clearly.
Oh what's that you say? This was a pretty good joke, so I should shut up and admit it? It actually presents a humorous situation with a well executed punchline? Oh well my friend I have something to show you: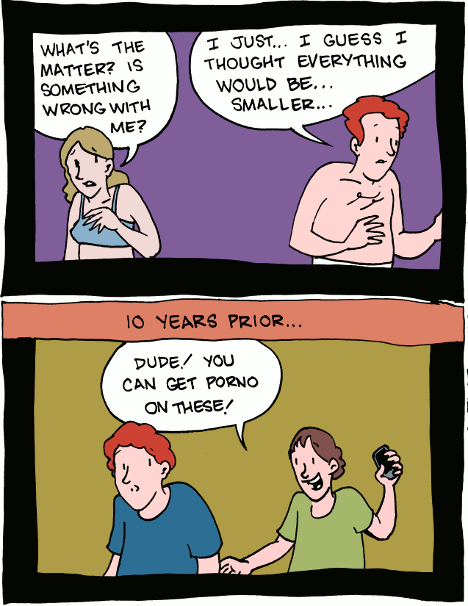 Why, it's Saturday Morning Breakfast Cereal! Specifically, the one from 5 days ago! Why, they are having awkward sexual encounters because of the poor technology on which they watched pornography a decade earlier. Go. Go on, xkcd-apologists. I know your strategy. Tell me why these jokes are better. Tell me that SMBC isn't popular and no one reads and so Randall doesn't read it so he
must
have thought of the joke on his own. I am not going to settle for a "Oh well xkcd did it better anyway" because
that is not a justification for stealing.
So give me your best defense.