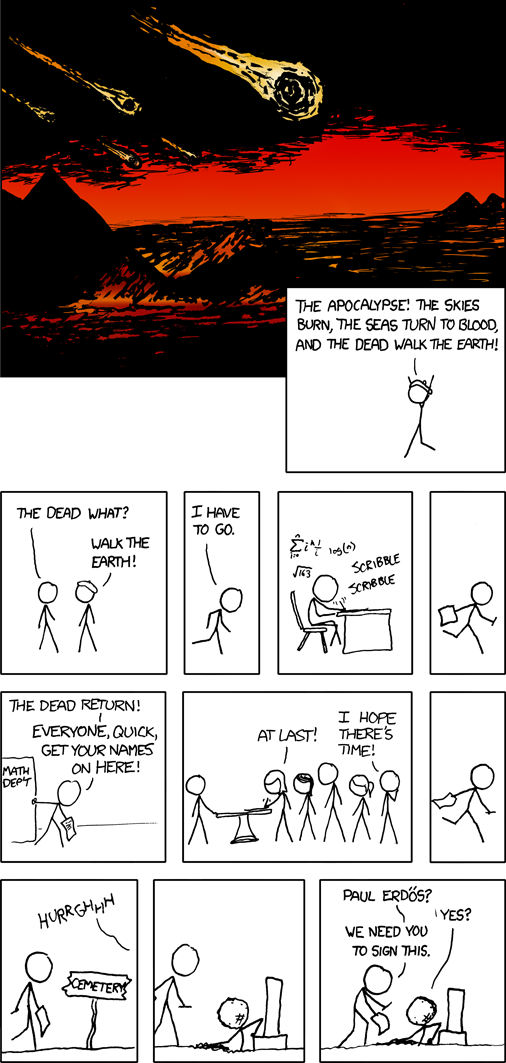 Finally, finally, a half-decent comic. The road has been long and the enemies have been fierce, but we have finally found ourselves with an
xkcd
that, by current standards, is not terrible.
I can't complain about the art thanks to wacky colored-in meteor panel 1. I can't complain that the joke is old (though the concept, 'monumental moment in human history spent on nerd thing' is
old
) though apparently I'm the only one who saw it comic. I guessed it was an
Erdos
thing at the 7
th
panel, but I guess I am just a nerd like that. It's an obscure joke, yes, but obscure at least
differently
from how most of his stupid references are. Sure, most readers still probably won't get it, but at least it's something new.
Of course, a nitpicker might say (not that
I
would, but someone
might
) that an
Erdos
number is clearly based on co-authoring a paper with Mr.
Erdos
, not based on him signing the same
friggin
piece of paper. That's obviously cheating; why not just get him (while he was alive, of course) to write you a check, then write your name on it?
Oh and I've said this before but just to be clear: Just putting a beret on a stick figure is not enough to make him a recurring character. He has to have some amount of character, he has to be in some way
consistent
from time to time. Mr. Beret utterly fails this test.
Why am I so sure that the next comic will make me angry as usual? I don't know. Actually, I'm posting this after midnight so I can just go check! Hey, it's going to be 600! Hope it's not self-congratulatory, as he does not deserve that.
....
....
....
Yeah we're going to have to have some talking to do about this one.