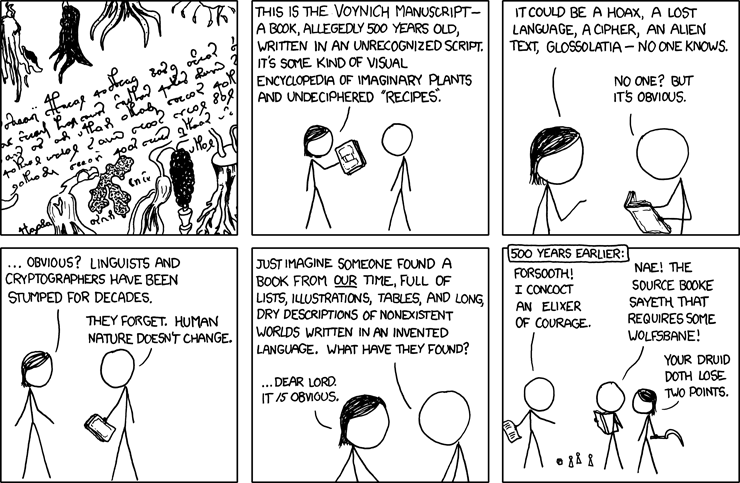 Now a lot of people who are beginning to lean towards the "huh, this webcomic
does
suck a little" have told me that they like this comic. I don't know why. For those of you silly people who had not heard about the Voynich Manuscript (unlike me - thanks again,
Unusual Wikipedia Articles
!), I have no clue why you would find this comic funny: It presents a historical oddity and makes a joke off it, which I suppose could be amusing at the Annual Conference of Voynich Enthusiasts but for those of us not plaugued by wondering what this manuscript is, why should we care?
If the comic were about some unsolved mystery that we all actually knew about (I don't know what, but people have heard of Amelia Earhart, so work with that), it would be more interesting.
There's also the fact that Randall twists the truth to make his joke work: People
don't
know that it is full of recipes, and descriptions of other worlds and stuff. The punchline only works if you assume that the text of the book is something like a D&D manual, and it's only funny if no one has a clue what any of the text is. So the whole thing doesn't work. Commenter Fred put the whole thing very well on the last posts thread:
It is an INCREDIBLE stretch to even imagine that the Voynich manuscript looks like what a 16th century D&D manual would have looked like. It doesn't have any tables, the closest thing to 'lists' are paragraphs marked with a bullet (which -might- be recipes) and there's no telling if it has "long dry descriptions of nonexistent worlds" because NOBODY CAN FUCKING READ IT. How does stickman know the text is dry? Where did 'descriptions of nonexistent worlds' come from? I mean, the only thing the manuscript has in common with a D&D manual are things Randall -imagined- are in the manuscript.

"Hey, I wonder what the Voynich manuscript is all about."
"Isn't that obvious? Look, it's page after page of romance, sarcasm, math and language, surrounded with a lot of crappy drawings."
"Dear lord, it -is- obvious!"
500 years earlier: "Forsooth, if I deconstructeth the intricacies of sexual relations then Megan might still love me."
Alt text: You confuse me! You have apparently crammed two separate ideas right after each other, and made it sound like a question immediately followed by another, but they don't make sense together.
Oh right I was going to say something nice about every comic: Um - I guess I like the drawing in panel 1, it looks pretty accurate. And also the "show us don't tell us" nature of the punchline.
=======
On another note, of late there have been way more comments than there used to be posted on the blog. Generally that is awesome, most of them are good and debate humor from all sides. I want to encourage people who disagree with me to keep posting. As you can see, there are also lots of less, shall we say, meritorious posts, and that sucks, but we will have to do our best. You should know, however, that I am not going to be writing comments for a while. This is a) because it would take too much time to respond to even a fraction of the comments we are getting, and b) so you know anything from "Carl" is not actually from me. I'll use my unobscured space here in the posts to let you know what I think, and whether I, in fact, enjoy sucking ass turds.