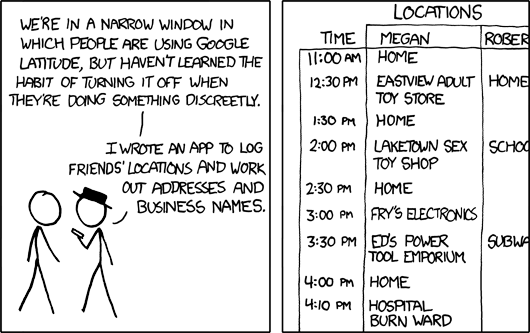 Sometimes Randall Munroe draws comics and I go "ewwww, that's creepy, that makes me feel gross." And I write that on the blog and invariably, some people go "what are you talking about, there's nothing creepy about that, you just use that word to describe everything, lame"
Can we all please agree that this comic is
fucking creepy?
This is stalking, what is happening here. Nothing else. That's creepy, all the time. Ok? What Mr. Hat is doing is following where this person is at all times (yes, she has chosen to in some cases broadcast where she is, but Mr. Hat's exposition makes it clear that she does not intend for to be followed in this case).
Then there is the "Megan" question - as you all know, Randall has this habit of always having his weird breakup comics (and, as in this case, a few others) feature a girl named Megan, and there is Much Debate over how seriously to take this - whether it is just a stock name and Randall just likes using it all the time, or if he actually has had some serious unresovled drama featuring a Megan. Obviously, if it is the later, then that ups the creepiness in all these comics exponentially. It also means that Randy is really just weird, and not very careful at all. That's why I tend to fall on the "It's just a name" side of the deabte. But who knows? As he uses it more, it makes me feel a little creepier even if it's just a name.
Oh my goodness so far into a post and I have yet to get mad at the humor! The humor is bad. The joke is bad. First off, it's another Noodle Incident joke - where he doesn't actually tell you a funny situation, he just gives you some Guarunteed Humorous Material and makes you imagine what funny thing happened - in this case, he gives you Sex + Electronics/Tools -> ? -> Injury and you get to figure out what ? is. It's perfect - because if you can't come up with something funny, it's your fault for having a crappy imagination, and if you can, well, give Randy credit because he inspired it with his ideas. FUCKER.
Anyway, whatever you thought of for the hilarious situation, it wasn't that good. It just relies on the usual middle school awkwardness about sex that makes it always funny no matter what. Add the usual middle school humor about people getting hurt, and you have yourself a joke that will not fail to entertain 14 year olds, time after time after time, with no extra work required! From a standpoint that is only a little more advanced, it just seems lazy. And it is.
With the alt-text ("The G1, especially with the new Android upgrade, is way better than I originally thought.") he just isn't trying anymore. That's OK randall. Your jokes are bad when you write them, so you might as well stop writing jokes at all and just skip to basic technology reviews.
XKCD-Obsessed-With-Sex count: 3 out of the last 5! And one of the two that didn't was about uterus-based-humor.
Update:
god fucking damn it I promised to say something nice about each comic and this time I didn't even remember. I found something else I disliked though! Two things actually. One was the excellent point made by Commenter Raekwon the Deaf about how when Mr. Hat says "when they're doing something discreetly" it really does telegraph that the joke will be something awkwardly sexual and embarrassing. That's basically all the word "discreet" is used for.
And then what pissed me off (and this is one of those little things) is the names of the stores: "Eastview Adult Toy Store" and "Lakeview Sex Toy Shop" are made from the same formula. Can't even think of a clever sex shop name? Come on. (hey! that's pracically a name right there). And then the hardware stores are "blue collar name + 's + what sort of thing we sell".
Oh right I was here to say something nice. Ah crap. I really can't think of anything. I will try harder next time (though I may fail again, 597 sucks ass too)