SURPRISE, motherfuckers! I am back. Carl asked me to post on this one since he is a stupid newb who does not understand teh Linux*.
Since all of you are clearly not in xkcd's target audience and therefore techo-illiterate, allow me to spell this comic out for you. You see, the truly 1337 do everything in command line. Since your brains have most likely atrophied from years of Windows use, I suggest if you attempt to use one you stick with something like bash. Trying to use zsh right off the bat would be an experience on par with looking into the eye of God, and your feeble brain would melt before you could reform your sad, fascist, non-OSS using ways.
Once you have stumbled around this superior way of doing things, you will likely find yourself wanting to use more than one terminal at once. Many users running their own Linux boxen will end up using Gnome or KDE to open many terminal windows. This is a mistake. This also isn't even an option if you're sshed into a remote system. What to do? Use the incredible
screen
command. This allows you to switch between multiple virtual terminals with simple keystrokes! How amazing. These adorable little screens merrily run in the background as you do other things.
Which brings us to this comic. A user has died, but his screen sessions live on. The server owner is reluctant to reboot his server, as this would kill those last echos of the user's former life. Wait, what? Does he need to recompile his kernel or something? WHY WOULD HE WANT TO REBOOT? Uptime is glory! Plus, Linux deserves better than cheap lowbrow humor like puns! You do not serve a classy lady like Linux McDonalds and box wine for dinner, you serve lobster and fine champagne! And not just a pun, an
anime
pun?! Anime is for chronic masturbators; Linux users are a much higher class of geek.
I mean, does THIS: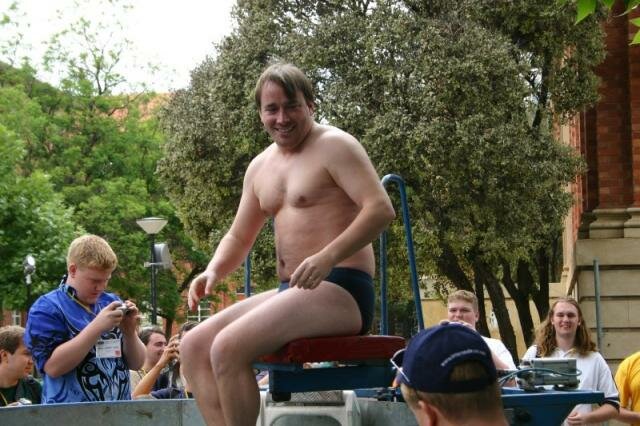 look like some sort of pun making, anime watching nerfherder? I THINK NOT.
*EAT A DICK BSD LUSERZ LOL
Thanks to jwc for being my muse for this post.
$10