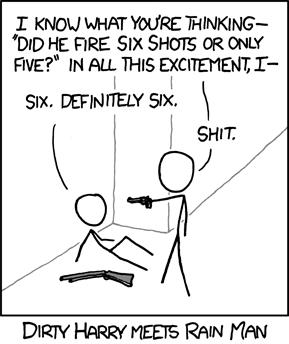 OK. I'm going to go out on a limb and say I hate this comic. It's getting a lot of lukewarm response from a lot of people who should know better, and I really just have to put a stop to that. This is terrible.
This is "What if Pop Culture Thing A and Completely Unrelated Pop Culture Thing B were combined in some way? What would it look like?" It's basically like
comic 575
. This is the author saying, "I can combine things and imagine the results!" But this one is even lamer than that, because the result is so stupid. Yes, the dude from Rain Man was obsessive about counting things. So hey, he knows the answer to Dirty Harry's question! HA. He likes to
count,
get it?
No attempt to explain how the situation occurred, no further result than this one conversation, nothing else. This was just thinking of how one character would act in one scene of another movie, and calling it a day. That's just dumb. Super, super dumb.
Also, the alt text: "Sci-fi has energy weapons because otherwise the people like me who watch it get distracted counting shots." Ugh. "people like me" = "look at me, I'm a quirky dude who likes to be a tiny little bit obsessive sometimes, do you do that to? Let's pretend this is actually a big deal and we are somehow autistic, and people will love us or at least be nice to us."
=============
update:
Commenter Bilbo, below, comes up with a great twist for this comic - instead of Rain Man, have
The Count
from Sesame Street. This is so much funnier. For one thing, the level of counting (all the way up to six!) is far more suited to the Count, who is, as we all remember from childhood, mostly interested in slowly counting up to fairly low numbers. But more than that, we all know that I love humor by contrast, and the contrast between two characters from Serious Movies For Grown Ups is far less amusing than a contrast between Character from a Serious Movie for Grown Ups and a muppet character from a Less Serious TV Show For Kids.
god, bilbo, that was a great idea. i am still laughing, in my mind.