A million years ago, back in the first months of this blog, I wrote two posts, one each about about my
favorite
and my
least favorite
xkcd comics. I forget why I did this. The favorite one was to show that I liked a lot of comics; the least favorites may have been a necessary byproduct of having to sort through so much crap to get my 10 favorite.
ANYWAY the point is, I limited myself in both cases to the first 200 comics, which was then about half the total output of Randall Munroe. I figured I would get to the next 200 comics soon. WELL, it's far too late for that, but better late than never, and so here is my acclaimed follow-up to my acclaimed original, the 10 BEST XKCD COMICS, 201-400.
---------------------------
First, some notes: Unlike last time, I am a Trained Professional now, and so I am going to throw a little more commentary in there. And screw "no need to clutter the page with images," I am going to clutter the
fuck
out of this page. I'm leaving all the original alt-texts in, for uh, scholarly completeness? Let's get started!
On my first run through the comics, I found 16 stand out great comics (and, oddly, 16 stand out terrible comics. But I'll get to those in a few days). I narrowed it down surprisingly easily.
In chronological order:
202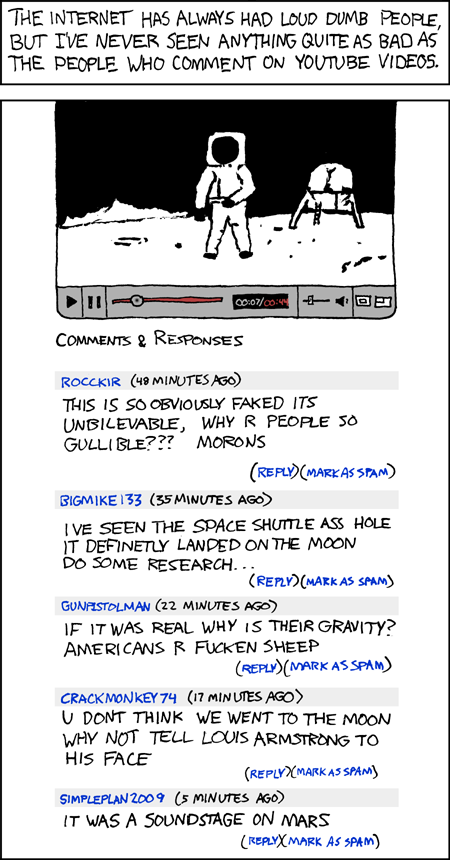 I like it because he doesn't just complain that people are dumb, he gives us examples ("showing" in addition to "telling"). Of course they are made up, but they are funny: Both sides are total idiots, not just the side we all agree with. The extra effort of drawing in the video at the top is also a nice touch I don't think he'd do today. Contrast this comic with
481
, which makes the same point ("youtube comments r dumb") but in such a terrible way.
236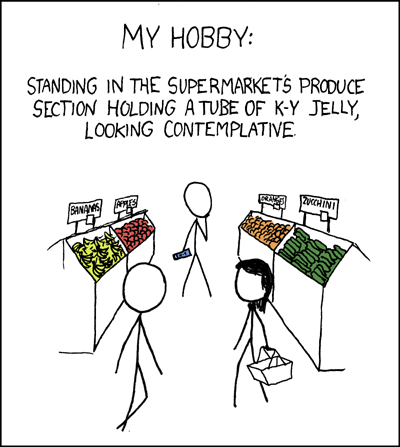 This is just great. This is probably the best of the bunch. It's a great example of what I love in comedy, which is having to figure out for yourself exactly what conclusion the author is aiming for (I usually call this "making the jump in your head or something"). Part of the fun of reading this is the moment - no doubt very soon after you read it - where you go "OH, that way people will this he's all pervy." And the alt-text does this again, with an even better, darker joke.

244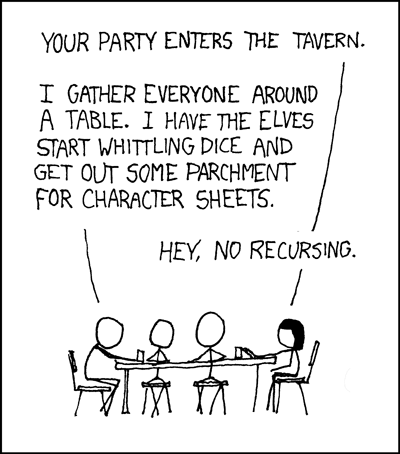 I'm a sucker for self reference, and the idea of escaping to a fantasy world in order to play a game - The very thing you are doing in this world! - is great. The added detail that the characters would have to "whittle" dice and make sheets on "parchment" just shows how much effort they are putting into this pointless exercise. Pet peeve though: "Recursing" as a verb bothers me. It sounds like you are cursing, again, and the change from the softer "zh" sound in "recursion" to the "ss" in recursing annoys me to. "Hey! No recursion!" would have worked fine. OH WELL.
254

noodle incident
, which is usually a cop out for humor, but I'm making an exception: This comic is clearly
trying
to make as crazy a noodle incident as possible - constantly adding in more crazy details, right up to the final word. And dammit, the details he chose were funny.
262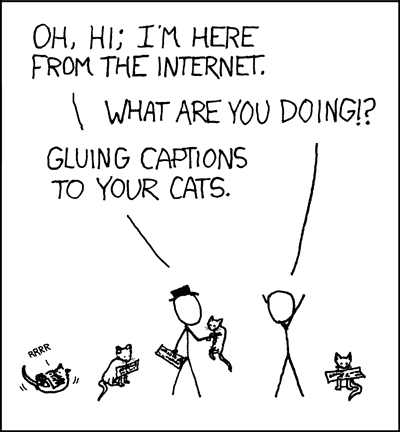 Not sure I can explain this one, so I'll take a pass. Another comic that stands out just fine on its own, but with an alt-text that makes it just great.

285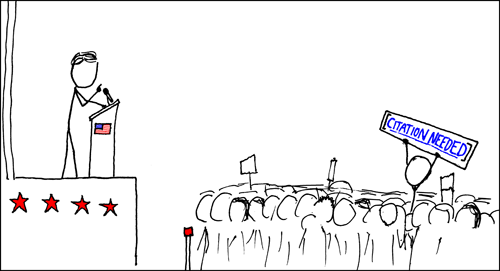 I think this is one of the few xkcds that just gets better the more you think about it. The fact that "Citation Needed" is a sort of passive-aggressive form of protest on wikipedia, coupled with the fact that demanding a citation for a fact is actually a really good thing to do to a politician, AND another great alt-text makes this a great comic. Also, it's one of the first I ever read. In this case, minimalism works for Randall. That will not always be the case.

304

I love this one even more now. Given the "love is wonderful!" tone that xkcd began to embark on around comic 350 or so, this perfect subversion of the expected is lovely. It is so perfectly set up for you to think that these two quirky people have found quirky true love in a quirky way that you are all ready to just vomit all over them, and then you find out no, this relationship is over before it began. So satisfying! If this came out now, I would think it was an xkcd parody. The colors and shadows feel a little too "just practicing my photoshop skills"-ey but it still helps set the tone nicely.
325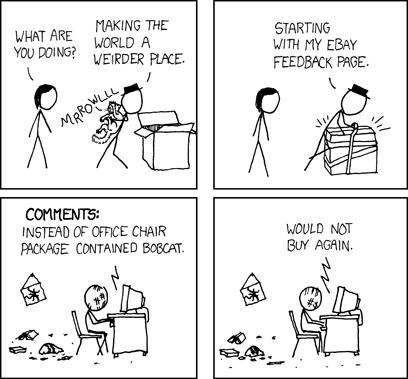 This comic didn't earn its place here for mailing bobcats - If I am a sucker for self-reference, I am an anti-sucker for random humor - it got on the list for the feedback. I love how casual and descriptive the feedback is, and how it is almost all overwhelmingly positive. The title - a place xkcd rarely finds humor - adds to this nicely as well.
Sometimes I write that contrast is a good source of humor. The contrast between the violence and chaos of what happened to the Buyer and the neutral tone of his feedback leads to Komedy Gold (this is the first time I have used that phrase non-sarcastically).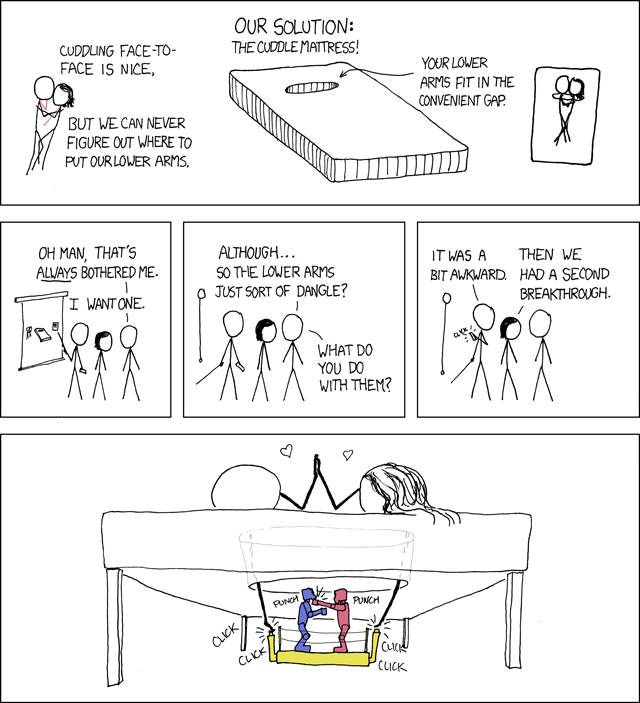 Another great subversion, AND another great contrast! This comic is full of lessons for us all. The lovey cutesy comic ends with a totally unexpected, non-cutesy visual punchline, thus avoiding pukes a-plenty, and the contrast of Love on top of the mattress and War below is also lovely. WELL DONE!
(i have to remember "pukes a-plenty", that is a great, Ryan North-type phrase)
update:
well, looks like this is the one people disagree on, or at least, disagree the most with. I guess I shouldn't be surprised that one of these gets vehement opposition from the blog regulars. I should clarify: Yes, this is usually the sort of irritating "i love love!" that I hate in xkcd, but the fact that it ends with the Quirky Couple fighting (or rock 'em socking whatevering) in addition to their love nonsense is at least a bit of a change of pace. BUT NO MATTER, we must simply disagree on this comic and try to agree on (most of) the rest.
And Last,
385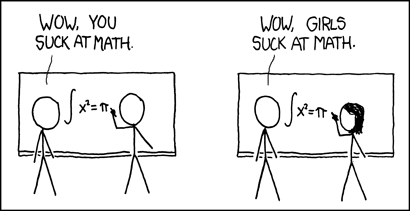 From only a few weeks before I started this blog. This one got lots of links from feminist-type websites, and I think it carefully toes the line between making a great point well and making a good point badly. This comic is making a point about society and how it treats women in mathematics; in that sense, I think it is unlike any other xkcd. There are others that try to do this (like the one about
being nice to furries
) but they also try to make jokes; what's great about this is that it presents the double standard
as
the joke. In other words, rather than doing something funny, this comic holds up a mirror to us as says,
you, you are being funny. In the sense of "stupid."
Well done, Randall - it was tricky to pull off, so be careful before you try again.
---------------------------
WELL that brings us to the end of the list! Before you go, you can check out the honorable mentions:
GOOD, BUT NOT GOOD ENOUGH: The 6 that I had to cut:
218
231
238
(I like the jagged text on "Saturday Night"; I think it does a good job of conveying the exact tone that the person on the other end of the line is making)
242
252
331
SO - tell me why you think I'm wrong - which of these comics suck, and which ones did I unfairly leave out?
(10 worst comics of 201-400 will come in a few days, *hopefully*)