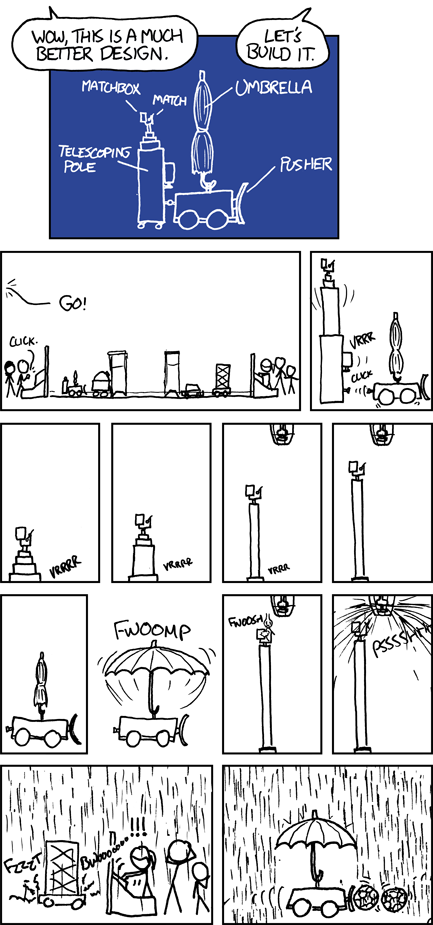 Did this comic confuse you? Perhaps it is because you are not a high school student. I guess we should start with the explanation, which would be obvious to even the most simple minded high school student with an interest in robotics and a knowledge of robotics competitions.
The title, which you thought was just mis-capitalized, in fact refers to the
FIRST Competition
, though besides the title of the comic, which just has the word "First" which is a word that can mean many things, there is no other overt reference to the competition.

SO the idea is that the robots are competing in some type of robo-sport, and rather than create a robot which follows the rules, this robot destroys the others with water while protecting itself. It is cheating, or being clever about the rules, depending on your point of view. See the robot is really two robots in one; the tall one, which sets off the sprinkler conveniently located directly above the stadium, and the short one, which is basically a normal game-winning robot, but with an umbrella.
This could be any of a number of
robotics competitions
, but for the name of the comic, telling us it is a particular contest for high schoolers. Now why on earth would he choose a particular contest? Why limit it? I have one theory, with which you may agree or not, but here it is:
some
people, upon reading this comic, may feel a special bond with it, because they participate in that
particular
contest. These people are, of course, all high-schoolers (advanced mathematics my ass). But the point is that they wouldn't have that joy of recognition had a particular competition been named.
even though there is nothing specific about the comic
that relates to the FIRST competition! Astounding.
Moving on to the comic's idea in general, I liked Ar-Pharazôn's comment about it:
Well, I entered a few robotics competitions too (not this one) and by the end of week one, everyone on our team had shared a billion variations of this "joke" with the rest. Robots that get the other one wet, robots that flood the whole building, robots that carry explosive payloads for kamikaze attacks, robots that have guns to shoot the other team, blah blah. Then we figured that we should stop dicking around and get to work.
It's true. The idea of drowning other teams' robots is clever, but no more or less clever than any of a dozen other get-around-the-rules ideas (though many FIRST fans have, in fact, listed the numerous rules that this breaks). In that sense it reminds me a lot of the
egg drop competition
comic.
AND LAST, points to the anonymous commenter who suggested that "the law of FIRST robotics" would be a far more clever name for this comic.