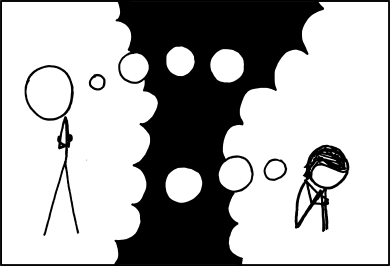 [ALT: A universe that needed someone to observe it in order to collapse it into existence would be a pretty sorry universe indeed.]
I'd like to preface this one by saying that I have, in the (now distant) past, enjoyed Randall's attempts at being "poignant." I like morose things. I write a microfiction blog which consists almost entirely of morose stories about existential despair. I listen to fucking Bright Eyes, for Christ's sake.
I say all of these things to make it perfectly clear that the reason I think this comic is a fucking abysmal piece of shit is not because I don't like this sort of thing, or because I demand that every comic be funny. No, the reason I hate this one is because the comic is nothing short of terrible.
There is nothing redeeming about this one, unless "at least there is no stilted dialog" counts as a redeeming quality. Even the
title
is fucking terrible. All I can think of is "mutual masturbation." And the comic itself?
Maybe your fanboys have convinced you otherwise, Randy, with their whole halo affect adoration of everything you ever do, but you are not an artist. The best your art comes to in your comics is a sort of non-art, which manages to basically get the point across but has no soul and nothing interesting about it. Your comic's art does not convey emotion. And normally you manage to get by with your non-art, because it is accompanied by words. But not here. Oh no.
Here you are trying to rely entirely on your non-art to convey what I'm sure you think is a very poignant message. But here is a tip for you! Faceless ovoids do not convey emotion, not even if you draw their creepy spider hands clutching themselves, or if you draw Megan seated with her knees drawn up to her chest. Honestly, she looks more like she's listening to someone tell a story.
Here is what seems to be going on here. Our star-cross'd lovers have been separated by tragic fate, and all they can think of is the other--and the distance between them is so great and tragic that they imagine that their lover is also lonely without them. And then I guess they get even sadder, imagining how lost their lover must be without them. I guess we're supposed to find that sweet? Or sad? Or something?
But what I'm getting is mostly "fuck, that's dysfunctional." Not only can these fucks not stand to be away from each other--that's not really that bad on its own--they also imagine that their partner is just as miserable as they are. They can't imagine them having fun or doing something else--they think of this person entirely in the context of their relationship. They cannot imagine the other person doing anything without them but pine.
And doesn't that sound incredibly fucking selfish to assume? "Oh, my girlfriend is out of town, she must be so incredibly sad without me there to complete her." That just creeps me the fuck out. And it's recursive, so I have to hate both of the characters equally. They are selfish, wretched monsters that need to harden the fuck up. And what do the fanboys do? They lavish the praises on like it's a newly-crowned king.
Don't get me wrong--you could make a good story or song or poem or comic or whatever out of characters who are this dysfunctional. You could make a beautiful piece of visual art out of it, too. But Randy did neither! He used no words, and he did not produce any art. Randy came nowhere near producing something good today. He did come very near to the opposite: producing something which is utterly, completely irredeemable, something so terrible that it becomes the standard by which all other terrible things are judged. He may even have succeeded.
The alt-text shows what I'm sure is an unintentional glimmer of self-awareness. While I'm sure its intention is to say "this is loneliness on a fucking UNIVERSAL scale, man," it could also read to be saying "you are incredibly fucking pathetic if you need someone else there with you in order to function as a human."
This comic is an affront to everything that is actually poignant or sad or profound out there. Whereas there are beautiful things out there that explore the flaws of the human condition vis-a-vis romantic relationships with cleverness and self-awareness, this has neither. This is a comic which mistakes its inability to interact with humans in a positive manner as some profound, earth-shattering statement of loneliness.
Carl used to have a tradition where he would try to say something nice about every comic. I am going to revive that tradition for one comic only, to point out the single vaguely positive thing about this comic that there is to say:
You can tell that they are thought bubbles.
I'd say good night, but there is now officially nothing good about it. Fuck everything.