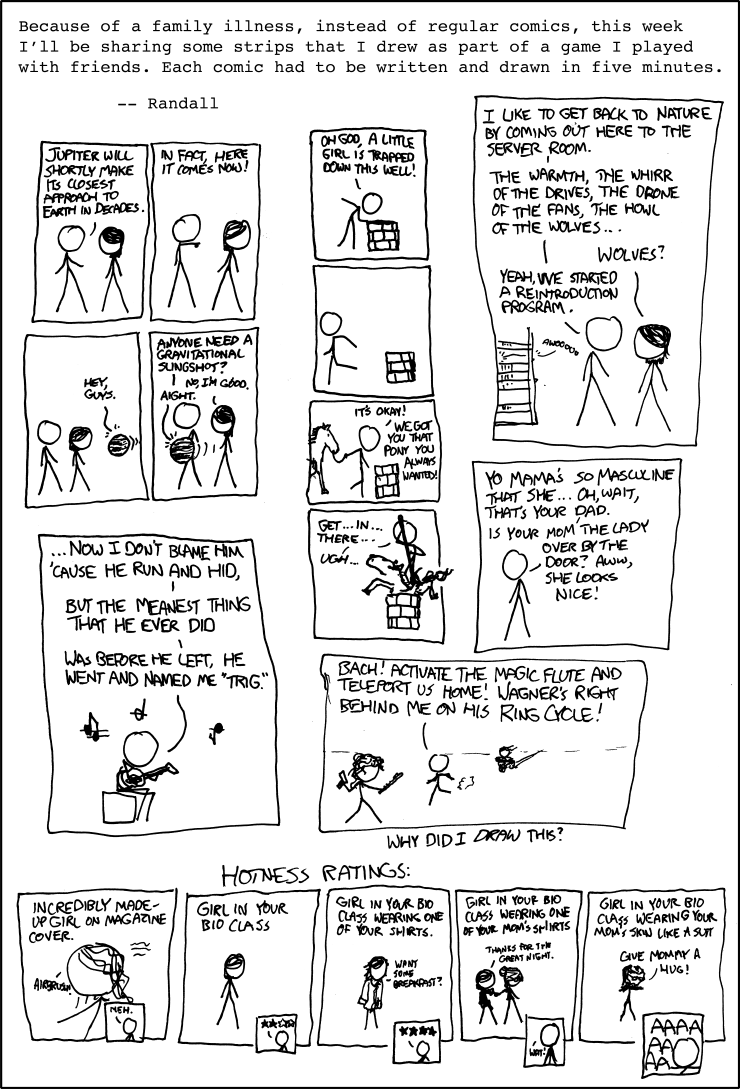 [Alt text: "The wolves thin the RAID arrays, removing the slowest and weakest disks to keep the average seek speed high."]
Today marks the first day of Randall's "sick leave." Though I was curious to see what would show up, I sure as shit didn't hold out a lot of hope. When he mentioned notebooks and a scanner, I expected to see a something like his
early sketchbook stuff
. I know a lot of people have a huge boner for his red spiders drawing or whatever, but it's honestly the same kind of shit you'd see in any fledgling artists' sketchbook only OMG RANDALL DREW IT SPROIIIIIING.
819 is... holy shit, it's actually kind of funny! True, the mini-strips aren't amazing; For example, I can't tell if the "Trig" song is supposed to be about Palin's son or trigonometry, and the "oh hey chicks on magazines are airbrushed that's so unattractive" quasi-self-righteousness rubs me the wrong way. However, the guy stuffing a pony down the well and the "girl wearing your mom's skin as a suit" are both amusing. I even like the little Jupiter humping on the dude, though that may just be a product of my sick, perverted mind and a poorly-drawn orbit. They're out-there without trying too hard, cute without being too coy, and minimally pretentious. Essentially, they're deficient in pretty much every quality that makes xkcd insufferable.
Obviously, if he had thrown these up with out the "drawn in under 5 minutes" caveat, we'd be having one of those "seriously, Randall, what the fuck" moments that have been increasingly common since
VaginaGate
. Their lack of suckitude seems to be a compelling argument for Randall to give up the M-W-F grind and move towards that "illustrated picto-blag" thing Rob has been clamoring for (the fat fuck.)
It's too soon to tell if this sort of thing is an anomaly or not; it's not unreasonable to predict that this was the one vaguely good thing in Randall's notebooks and we're about to get hit with an avalanche of shit. I do think that it's proof that he's either been trying way too hard or burnt out on his current way of doing things. I also think that he has too many fanboys' mouths set on auto-fellate in preparation for his return, so there's little chance he'll stick to a more casual format.
Also, Rob is fat.