[If you didn't see my post requesting general feedback about this blog, as well as an unsatisfying explanation for why posts are sporadic for the next 10 or so days, check it out
here
]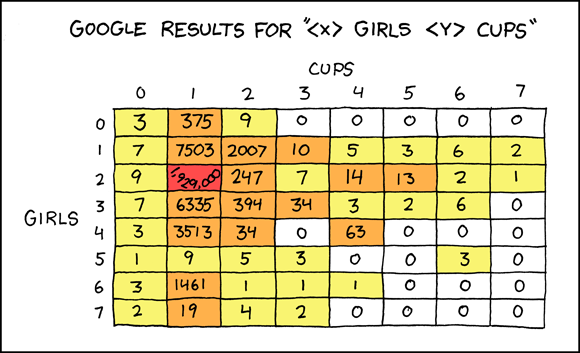 While I will almost surely regret this tomorrow, I am staying up Past My Bedtime to post some quick and fairly belated thoughts on this comic, because they are simple and short.
1 - Hey hey, just when I foolishly thought he'd already mocked
every meme
out there, he comes out with another one.
2 - Hey hey, just when I foolishly thought he'd gotten sick of
goddamn
google
search
. Dude: It's just a search engine. Relax, ok? We don't all want unscientific studies in place of our comics.
3 - "Cups" should be "cup/cups." With the plural in there, "2 girls 1 cups" is both ungrammatical and inaccurate, as a
google search
for it brought up, as of this writing, only 2,750 hits. You'd think that maybe he'd make mistakes elsewhere in the chart, not in the key block.
4 - What's the point? There's a
popular
well-known video online, and it has many google hits. But variations of its name do not! EUREKA. I must report these findings to the world!
Update

:
It's tomorrow, and I regret it!