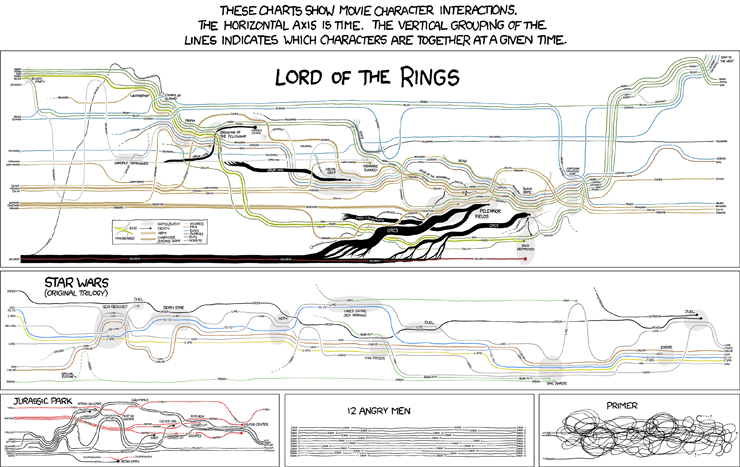 I know i usually forget to do this, but I'm making this post now in case you want to talk about the highly unusual
comic 657
. Yes, I know that if you read this by RSS feed, it makes it more difficult. To you people I say, just check back wednesday night. Also, if you are reading this by RSS you are most likely Rob, in which case i hate you and you should get the hell off my blog.
A few quick thoughts
-Regardless of what anyone says, this comic is very, very impressive, and clearly took a lot of thought and care to produce. I don't want to think about how hard it is. This doesn't excuse any of Randall's earlier lazy comics, but it does show that when he wants to, he can do something intense like this.
-to the
always classy sje on the forums
: You are a moron, there is only one critic on this site who matters, and that is me, and I read it right, and have seen the movie like a billion times. That clever little "let the voice of one person stand in for the whole website" is lame, and if I were to use it, I might assume that all of the xkcd forums were filled with giant assholes that reveled in the mistakes of others.
------
PS i thought of an xkcd comic today and I want to say it now, so xkcd fans can tell me is sucks and then will have to backtrack when xkcd inevitably makes the same joke - it would basically a twitter post version of Fermat's last theorem, saying that 140 characters was not enough to explain it fully. Math reference + Internet Twist = XKCD Gold.
also, how long before we get a logical journey of the zoombinis comic? Maybe Mr. Hat is playing the game and uses all sorts of practical, assholeish tactics to avoid the usual logical rules.
***************************
=======================
***************************

OK. Now it's time to get down and write about this comic.
This is an impressive comic. A lot of the usual anti-xkcd folks are impressed with it, and I fall into that category as well. Let's break it into two distinct parts, the charts themselves and the joke or jokes.
The charts are
cool.
Now granted, this sort of thing is not original; the most famous chart in the world (according to some sources), the
Napoleon's Forces
one, is of this style. It's actually a chart which xkcd has referenced
before
(incidentally, I could have sworn he referred to it twice. lots of cookies to whoever can find another example). Even the idea of doing it for a story dates at least to
Slaughterhouse-Five
, as many people have pointed out. But that's really not the point - I don't want to criticize him for that; unlike many other examples it's really completely fine that he's done this. I just want to make sure that all the fans who are like "oh wow he is so brilliant to think of using graphics to see where people move as time goes on!" know that they are dumb.
The Lord of the Rings chart, covering 1000 pages of novel as it does, is of course the most impressive. Particularly if it was done entirely freehand, as I suspect, it would have taken many tries and many drafts, and many consultations of the book. His
blog post
sheds a tiny amount of light on this (but I warn you - do
not
click on that animation link at the end....). The Star Wars graph, while clearly simpler, is also impressive on its own. And I guess Jurassic Park as well.
The presentation of the graphs leaves a bit to be desired - on the front page, they are just far too small to make anything of, and the "joke panels," discussed below, are shunted off in the bottom where the eye is not really able read them, let alone concentrate on them. But is there anyone out there who seriously doubts that this will
not
be turned into a poster, probably before christmas, and that Randall had this in mind when he made it? Any copyright lawyers out there who know if this would constitute fair use or not?
But of course, xkcd is a comic, and so it can't just show you something cool, no matter how cool it is. It has to make a joke. And this comic, I think, tries to make two. First,
12 Angry Men
, a great movie but one where nearly the whole thing takes place in one jury room, so the chart version is comically simple. Ha ha, I guess. You wonder why he didn't go even more sparse and do a well known two-person movie, like
My Dinner With Andre
. Or a single line with
The Cube
. Whatever.
Then the real joke is the last graph,
Primer
, a movie so complicated that I've seen it 4 times and still have some key questions about just what is happening. It's not the crazy jumble that Randall makes it out to be (for one thing, like most time travel stories, the time travelers create duplicates of themselves when they go back in time) and it is, in fact, comprehensible. Nonetheless, that
is
how the movie feels, the first time you watch it. Unfortunately, I couldn't enjoy the joke. So few people know this movie that to me it just felt like Randall the insecure nerd trying to prove that he's heard of this cool nerd movie. Most people who have just discovered it, like me, did so either directly or indirectly because
The Onion AV Club
brought it a lot of attention this summer. I don't know for sure, but I suspect that Randall just watched it recently, and wants to tell people - like he did with
House of Leaves
- that he is just as well versed in nerdery as they.
In comparison to the nearly overwhelming impact of the "serious" panels, these last two jokes ("12 angry men is simple" and "primer is complicated") seem pretty pathetic. Why not just skip them entirely and leave us with only the high quality stuff?
Of course, had he done that, there's a good chance I would have said "this is cool and all, but it's not
funny.
It's not
trying
to be funny. Isn't xkcd supposed to be a webcomic?" and I would have been right.
That's why Randall Munroe should
stop
trying to be funny, as I have said a thousand times. By trying and failing, he's just bringing down the quality of the good stuff, like the serious panels in this comic. That's why he needs to scrap the webcomic format entirely and move all his fans over to
Randall Munroe's World-Famous Death Defying Amazing Picto-Blog
and he should do it as soon as he possibly can.
This was a very cool installment of xkcd. But it only reinforced to me that Randall
does
have good ideas, and xkcd is not the best channel for them.
============
PS here is something interesting - looks like xkcd is now
overtly
objectifying women for profit
. I wasn't expecting that.