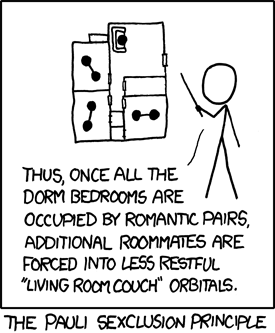 Oh lord. What are everyone's two favorite elements of xkcd? If you said "
making everything about sex
" and "
ridiculously bad puns about science
" well you are in LUCK! because today's comic stoops to both those levels, AND does it incredibly badly!
YES, the word "exclusion" starts with the prefix "ex-" which can, I will admit, be modified to become "sex-" and sex, as you may be aware, is
hilarious.
It is a guaranteed laugh, because everyone is so awkward about it! So you can always always always tap into that awkwardness for Laffs A Plenty. Obviously, xkcd does this very often. That's why it is so funny!
So what could be funnier than taking something not usually about sex - the
Pauli exclusion principle
- and making it be
all about sex?
It is
perfect.
It fulfills the XKCD Paradox Of Nerdiness - being about science, so it is nerdy, but being about basic high school science, so everyone can feel good about themselves for getting the joke. Heck, even
I
get the joke and I basically know nothing about chemistry.
God, seriously though, how lame was this joke? Don't we all talk about the concept of being "sexiled" when a roommate is having sex, forcing one to sleep elsewhere? I assume I am not the only one who has heard this word. "Sexiled" is a far funnier word than "Sexclusion" - for one thing, being kicked out of your room because of Sexy Times inside is much closer to being "exiled" than to being "excluded" - after all, how many people actually
want
to be included in the sex? Basically none, right? I mean, no one is like "Ugh, my roommate is having sex and
excluding me from it
" they are more like "ugh, my roommate has driven me into EXILE." Also, the word just sounds smoother - following the "ex" sound immediately with a hard C is much more awkward than following it with a long I. That just flows nicer. What I'm trying to say is that this comic is a pale shadow of a joke that everyone already knows and uses.
Not that that will stop Randall from making more jokes like these. That's why I want to help him out. Each of the following words has had the word "sex" cleverly added into it. Each one could be the subject of its own great comic, or even, if you work real hard, a
5 part series
.
extra --> SEXtra!
extraterrestrial --> SEXtraterrestrial!
extracurricular --> SEXtracurricular!
extortion --> SEXtortion!
extraneous --> SEXtraneous!
exit --> SEXit!
ex-wife --> SEX-wife!
explanation --> SEXplanation!
exhibit --> SEXhibit!
God, so many
great jokes here.
Tell me some other good words in the comments.