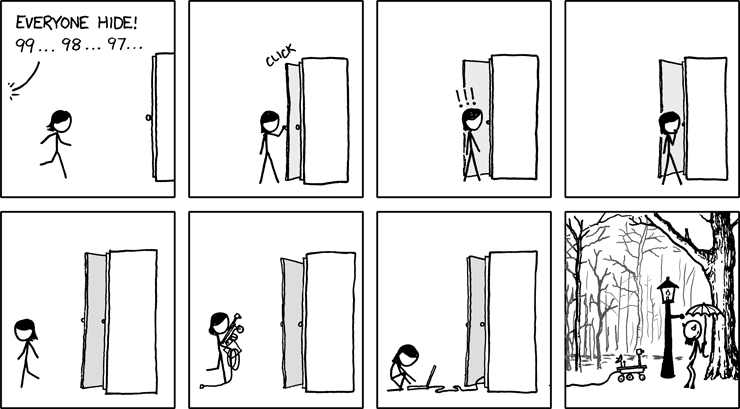 I think xkcd is in the middle of about 3 or 4 weeks of really mediocre stuff. Nothing that's really pissed me off for a while, just a lot of things that make me want to pat it on the back and say "it's ok, you can stop. You don't have to force yourself this much."
And that's how I originally thought of this one. But then the more i looked at it, the more it filled me with rage. Perhaps it was the lack of dialog that threw me off, perhaps the fact that I so clearly understood what was happening shielded me from the terrible fact that
what was happening does not make sense.


Ok, let's talk about this. The girl (who is being smart and tech-savvy, surprise!) is Lucy, from
The Lion, The Witch and the Wardrobe
(god i want to put an oxford comma in there but apparently that's not part of the official title). And instead of just heading straight into Narnia, she sends in some kind of mars-rover type webcam, to scout things out for her!
why the fuck should we give a shit.


Obviously, this option was not available to the Lucy in the story, written as it was in 1950. So it's just another dumb old
random media mashup
, one that tells us nothing new about any of the characters involved in either. It's not like those parodies where a character from something famous is suddenly put in a crazy new position, where you see how the creator thinks they would act. Here all we know is "what if Lucy had technology, and was really careful?" and the answer is
she would use technology to be very careful.
That's it! that's all there fucking is!
OK, here is my challenge to the xkcd fans: TELL ME WHY THE FUCK YOU LIKED THIS, or admit that you didn't. And no cheating by saying it wasn't supposed to be funny! it obviously was supposed to be.
what will happen for comic 666??????? maybe: nothing! has he ever done anything special for a certain numbered comic? 404 doesn't count, he didn't post it.