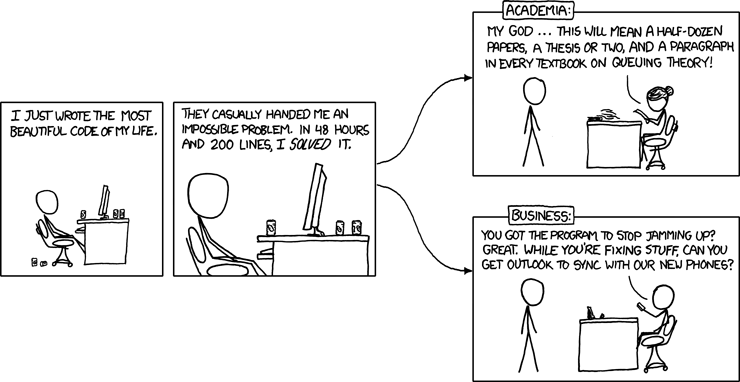 Oh, poor coders. No one ever appreciates them. They work so hard and get no thanks. I guess?
I guess Randall just wants to shit on some businessy people (I guess he really wants to be hired by some university somewhere?) , because you could totally just reverse this: Academics you spend all this time trying to get grants and stuff and make your papers get published and it takes years and is totally thankless, and you have to deal with stupid students and stuff, and in business, you get paid and stuff and if you work it right you can get famous and invent ipods and stuff (simplified? perhaps. no, on second thought, no. not simplified). Anyway, the point is, this just feels so damn
complainy,
especially for a guy who has never been an academic, or even gone to grad school, or even tried to go to grad school (as far as I know). While we're at it, isn't a thesis basically what you write at the end of a doctoral program or some other sort of program? Don't you usually write only one? How is that different from a paper, besides the difference in who is writing it?
But whatever. Man, I
knew
that being an academic was awesome in the math/physics/comp sci fields. You know how I know? Because I read Saturday Morning Breakfast Cereal, which covered this topic
last week.
Just last week! Am I being crazy here, or is this a little suspicious?
I am going to try to do a better job of reading comments and occasionally replying...you guys are just writing far too many. Stop writing! only one person has to call me a douche for me to get the picture, not all of you!