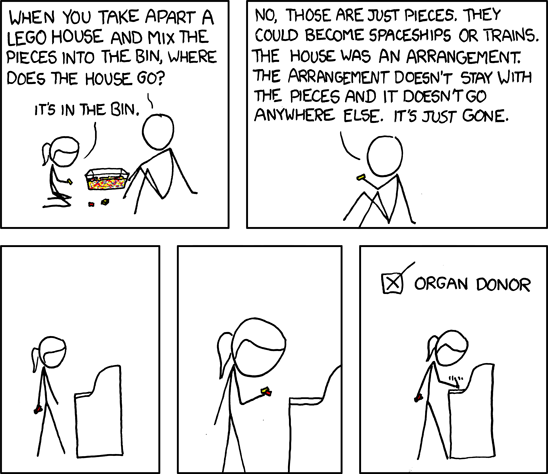 I find myself at a rare loss for words, simply because I cannot say with my usual certainty what exactly is happening in this comic. Ordinarily I turn to the forums and to your comments for help, but there isn't a consensus here. Is the man inspiring the girl to donate her organs, because once they are "done" being used by her body, they are like lone lego pieces that can be used for other projects (/bodies) ? That was how I first interpreted it. Or is she irritated by his philosophical elitism, and thus driven to
make

him

an organ donor
, using his own logic? Or, is she
changing
her organ donor card from "donor" to "non-donor," because the Lecture convinced her that she will lose all her individuality if even a small piece of her is removed? Or maybe she is changing his card from one to the other. I'm not sure you can make a persuasive case for any of them.
That's because so little context is given. Presumably, randall has an idea about which person's organs are being donated or not. But he doesn't tell us, at least not clearly. He could have shown the whole driver's license, including a picture, so we know if it's the girl or the boy. He could have shown us a little more of a reaction from the girl instead of "blank stare," so we could know if she is generally agreeing with the man or disagreeing. I personally think the first interpretation I listed is correct (which makes the comic only slightly funny, in a sort of profound life-explained-through-toys sort of way) but I really don't know.
So I won't say any more, and maybe the next comic will be simpler.
Prediction:
At least one cuddlefish will write a long rant about how dumb i am because
obviously
this comic is X Interpretation, and I am worthless scum etc and this shows how unqualified I am to write this blog and therefore xkcd is great, but before I get a chance to respond, another cuddlefish will write the exact same post but says it is
obviously
the exact opposite interpretation.
=======
In Other News:
I have just learned of a most extraordinary coincidence. Google Analytics informs me that on September 2nd, 2009, the day of the infamous
Comic 631
, the number of people who visited my blog after googling "xkcd sucks" jumped up
to 631.
how can it be??