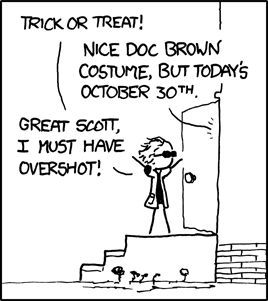 First off, sorry for being so slow with these posts, and not responding to e-mails etc as fast I would like. You know how life can be sometimes, that little bastard.
Anyway, let's do the best we can under the circumstances: Guy wants candy before halloween, so he dresses up as a well-known time traveler in order to justify asking for candy a day early. Mildly clever, but here is a case where Randall's terrible drawing just make life sadder for everyone. He can't just
draw
Doc Brown - because he is physically incapable of drawing a figure that people will recognize as the character. So he does his best - coat, glasses, wavy hair - and decides, no, that is really not enough for people to recognize (and he is right). So what can he do? He has the person in the house tell you: "NICE DOC BROWN COSTUME." There's another example of our favorite xkcd-unrealistic-dialogue, so stick
that
in your pipe and do it without a condom.
(
update:
some silly people seem to think that I am saying here that it is unrealistic for people to compliment a costume that a child wears whilst trick or treating. That's not what I'm saying, because yeah, that happens. What I'm saying is that in this case, Randall had to make the dialog far more stilted than would happen in real life, because otherwise we would not know what this person is dressed as, because the art is lousy. ok guys?)
Lastly we have the problems that only dawn on you gradually - if this person is clever enough to go and do all this, shouldn't he be old enough that "halloween" just means drinking excessively in costume? Is this really the most efficient way to use time travel to procure candy? Why has this fellow not been punched in the face yet? Etc.
In short, CANDY+BACK TO THE FUTURE does not always equal a great joke, SORRY RANDALL.