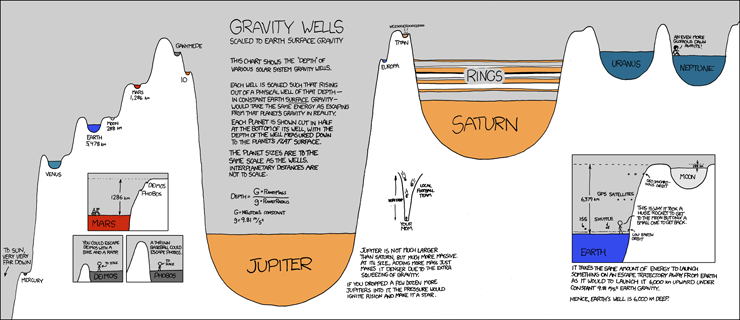 Hey guys. I am laid up with a cold, so I am letting my cat do today's post. He is not a very good typist, but he's pretty good with my video camera. Enjoy.
--------
Alright. I'm feeling better and not all hopped up on cough syrup, so I'll post my opinions on this thing (you didn't think my cat and I had the same opinions did you? Fucker voted for Pat Buchanan.)
I will admit that this thing is visually pretty. It is kind of cool to see, visually, that a simple jump would allow you to exit the gravity of
Mars's
moons. You may actually even think this is a clever visual depiction, however, this concept
really
isn't
new
at
all.
Hey, don't get me wrong-- big props to Randall for making it eye catching-- but he certainly isn't breaking new ground here.
There are other issues here, most of which you guys have pointed out already. In some instances, the people and objects in the well are to scale, but not in others. The whole POINT of visual depictions like this is to make it easy for people to wrap their heads around just how weak/strong these gravitational pulls are. The inconsistency in whether the people are to scale or not just makes it confusing; it looks like misquoting Carl Sagan dude can literally tiptoe off Neptune, which is obviously not the case.
Then there's the "your mom" joke. Don't get me wrong; I love "your mom" jokes as much as the next New Jersey
douchebag
. However, you've got this whole poster (let's call a spade a spade, alright?) chock full of factoids, so the lone joke feels out of place. It's almost like Randall didn't think the comic could stand alone as a pretty, informative work, so he slapped a "your mom" joke on there and called it a day. I agree with what Rob had to say about this-- either pepper the entire poster with jokes (the Titan things and Sagan aren't jokes, just cute,) or don't at all.
Carl said this comic deserved more rage, but honestly I can't work myself up to get pissed about it. It's just boring and
OH WHAT THE FUCK IS THIS SHIT??
$26
------------------------
HI GUYS it's Carl here, invading
Aloria's
post in order to add a little more anger. I thought this comic was awful.
First off, it is
boring.
We all know - because he told us - that Randall loves reading
The Visual Display of Quantitative Information
by
Edward

Tufte
, so I guess he
occasionally
uses
xkcd
as a
place
to
try
out some
experiments
. But this one doesn't work. We
know
that Jupiter is way bigger (ok fine, "more massive") than all the other planets, and in fact all the gravity wells are basically in correspondence with what you would expect, given their sizes. So I'm not sure what the point is.
In theory, it's to give you a sense of how hard it would be to escape the gravity of the various planets and moons. But it doesn't really work - we're supposed to see the walls of each well and imagine how hard it would be, at a human scale, to get something out of the well, and thus out of orbit. But the only human included in the main picture, the one at Neptune, is obviously not to scale. The human standing on Deimos in one of the insets looks like he could get out of the well with very little effort, though we are told that it would take a bike and a ramp to get him out.
I also don't understand some of the peaks between the wells, most notably the one between Mars and Ganymede.
So the chart is confusing and boring, two things that I am sure it is not trying to be. So it fails on those counts.
The last overly-complex comic he made was the Movie Narratives chart, and back when he made that, I wrote two things about it that I think are worth mentioning now:
But is there anyone out there who seriously doubts that this will

not

be turned into a poster, probably before

christmas

, and that Randall had this in mind when he made it?
Clearly my prediction was wrong, and this is still not available as a poster. So I admit that I was overly critical on that one, and Randall did not act as lame or pathetic as I said he would. That's nice. Likewise, I think this comic feels like an advertisement for a soon-to-be-available poster, but until that is actually the case, I for one will not say anything.
I also wrote
But of course, xkcd is a comic, and so it can't just show you something cool, no matter how cool it is. It has to make a joke.
And here we have that once more. Like the product descriptions in the xkcd store, this comic is an unfunny thing with bad jokes smacked onto it just for the sake of it having jokes. In this case it looks like there are two references (Sagan and Titan) and one joke ("Your mom is so fat she attracts football players into her orbit"). The joke is not even connected to any other part of the comic, it's just filling in white space (alas, he ran out of equations before he ran out of space).
I think if he is trying to write a comic he should focus on writing jokes, and if he wants to make visual displays of quantitative information, he should
write a goddamned illustrated picto-blog.


$10,000