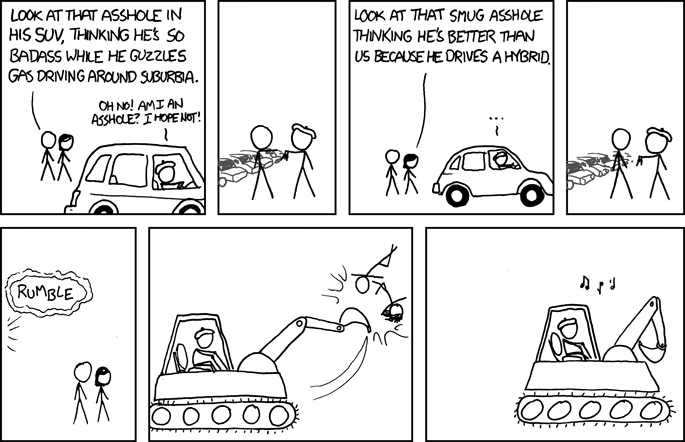 I basically don't want to talk about this comic. It strikes me as boring. You all can discuss it for yourselves. All I'll say is that he seems to be in a "damned if you do, damned if you don't" sort of situation* and it is no more or less entertaining than any other such situation.
* note: this is not the same as a catch-22. if you think it is, you are dumb. don't make me go on a rant about this.
What I want to talk about the alt-text. Now I frequently complain that Mr. Beret is a dumb character, because none of his actions are consistent with any sort of "character" at all, in the sense that you cannot "characterize" any of his actions into any "category." (note - if you say "but his character is that he is an
existentialist!
" then I will kick you in the balls and Rob will punch you in the face).
ANYWAY. In one of our earliest sightings of Mr. Beret we were informed that he a) thoughts buildings that were not bakeries were, in fact, bakeries, and b) thought items that were not scones, were, in fact, scones. I thought it was
dumb
then and I think it's dumb now. It's particularly annoying because in
later
comics
, this one definable, if odd, trait was totally absent.
So you think I'd be happy to see that today's alt-text: "[Shortly thereafter, at a nearby bakery] ::CRASH:: ::RUMBLE:: ::VRRRRRR:: '... I don't know, officer. It just scooped up an entire rack of scones and drove away!'" Because it gets back to the one thing I thought we could count on with this guy. But I'm not happy (surprise!), because we all we get is: He loves scones! He has a murderous love of scones. I was kind of hoping for something that added to his character, not something that just repeated it. It's like if Homer Simpson were defined entirely by his love of donuts. It just gets super boring, really really fast. So he's also got his job, his catchphrase, his various other phrases, his friends, his hangouts, etc. You know, like an actual character.
Have you ever seen the movie
Theodore Rex?
I recommend it. It is delightfully bad. The point is that the main character has a noticeable love of cookies. He makes it known frequently just how much he loves cookies! I kept expecting it to somehow affect the plot - perhaps he would inadvertently stop the bad guys while simply trying to acquire some cookies across the room? But it never happened! The only purpose to him loving cookies was so that later, they could have him
keep loving cookies!
WHY.
It's the same problem here: Mr. Beret's love of scones serves no
purpose.
Why do we care? How does it affect him, or those around him? Besides being able to repeat "he loves scones! isn't that CRAZY?" over and over, what is the point?
=========
By the way, you haven't noticed this probably, but it is getting really hard to keep up with all the comments. Back in the day, I used to read and respond to them all. Now I'm lucky if I can even read them all. It sucks, because all the good ideas and all the actual funny stuff usually comes from there, and the sense of community and stuff. So - I'll try to keep up, but if I don't, that's why. heck knows i was not expecting this web-blog to turn into a goddamn
internet phenomenon.
Heck no.