for a different take on this comic, see this post.

Well, maybe John was going to e-mail me about this comic but I'm just going to assume he is not.
Here we see, yet again, that Randall Munroe is not good with kids. We first saw it with comic 441: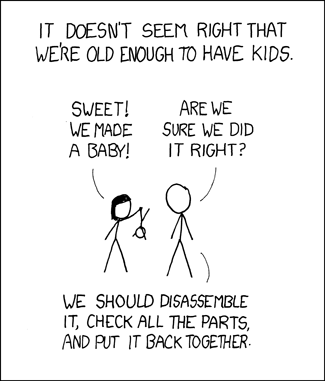 What's astounding to me is that he managed to use the exact same weird unnatural phrase ("we made a baby") in both comics. Both of them have the same exact message, "I am not responsible enough to have a child" and both of them make me go "well then it's a good thing you don't have one, and aren't likely to have one at all soon!" Both feature women who seem to think that having a baby is no big deal (in fact, 674's woman just can't wait to get started again!) and both seem to relate to Randall's fascination with female reproductive systems (witness this overtly in
387
), though of course that shouldn't come as a
surprise
to anyone.
Wait, what? The woman in panel 1 is saying "Don't panic" over and over? Say what you will about pregnancy, but one thing I
don't
think is true about giving birth is that it
comes as a surprise.
It's not like you are feeling sick so you go to the doctor and he goes "woah, hey, we are going to have to do some surgery here" and then you get anaesthesia and then a few hours later the doctor is like "Yep, just as we thought! You were nine months pregnant, so here is your baby!" Because then I think an appropriate response would be "don't panic, oh shit what am I going to do, don't panic."
As I said, that is
not
usually what happens; usually you are aware of it ahead of time, and so any panicing is
before
the birth, not "after the time when your baby is able to stand up and say 'BABY!' like the little dude is doing in panel 1."
Actually, that's unfair. I don't think the baby is saying "BABY!" in panel 1, I think that's supposed to be a label. But of course, that brings up two related, worse problems: 1, The fact that readers are disagreeing as to what it is means that Randall has failed to communicate through visual means what he wanted. He could have used speech bubbles - not exactly
new
territory
- and then we could have seen that this text was not meant as speech. Just a simple, straightforward suggestion.
The other problem, of course, is that his art is so shitty that he has to point out what a baby is because his baby is literally just a scaled down version of
every other friggin character he draws
.
Anyway, this comic was made by a dumb person and contains very dumb people, and i pity them all.
tomorrow, if I have time, I am going to write a review of the (several years old)
Dinosaur Comics book
(
alternate link
), just so that you see that I can write negative things about stuff I usually like.
=========
On the subject of things you can buy from TopatoCo, what the
fuck
is up with
this
? One internet cookie to the person who can explain it to my satisfaction. Keep in mind: The size of this poster must also be explained.
=========
Holy crap, Penny Arcade has a
friggin
video series?
That's crazy. Totally crazy. I feel like Penny Arcade is just this unstoppable behemoth of creation, just making and producing more and more and more every day, taking over various field and drawing all human creative potential into their icy grip. That said, I totally suggest you check it out - it's only 3 videos so far, about 20 or 25 minutes of total video, so not overwhelming. And they are promising weekly updates, so I for one will try to keep up.
===========
No one has yet offered to buy me a Winter Holidays present! This is tragic. You already
know what I want
, but if you are a poor person and still want to buy me a gift you should buy me one of
these
. Hell,
the cheapest thing on TopatoCo
is still something I would want to have. Now GO! go buy me gifts, all of you! I don't see why this hasn't worked already.