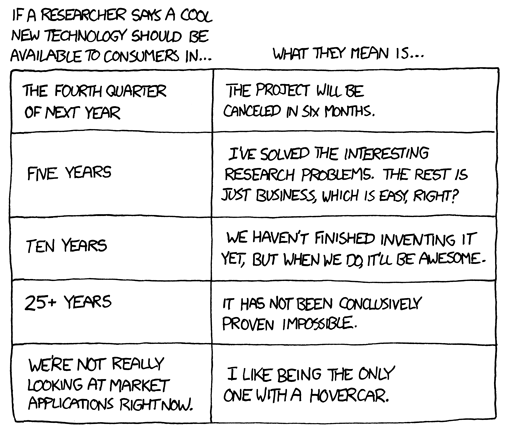 I don't know what it is about these new comics but I just cannot seem to care about them. Today's is just five different ways of saying "I get annoyed when people promise me fun things and then I don't get those fun things" and none stands out as being particularly interesting or funny, to me. It's all just like that "it's the 21st century, where are my
flying cars??
" stuff. We get it; we don't care.
I headed to the xkcd forums to try to find the guy who wrote "that's so funny, it seems like every product fits into one of those categories" so i could be like "well DUH everything is either within 25 years or in 25+ years" but I couldn't find it. Instead I found a
phd comic
:
Why do I like this comic better? For one thing, it's not as
linear.
The joke is not "if he says x, it will take Y, if he says 2x, it will be 2y" etc. The 3rd item on the list subverts the expected joke, and then the 4th does it again. In the 5th item the issue isn't even the length of time, so it's in some ways a different sort of joke. Basically, it isn't repetitive. It isn't inefficient with space.
Also, what Lint of Death
said
.
---------------------
Holy CRAP how does Subnormality manage to write
so many goddamn words
in a single comic? How is that possible?
---------------------
I'm still reading Homestuck over at
MSPaint adventures
but I feel like it's been about a month since anything important to the story happened. It's just...too expansive, this world he has made. Too many people and too much backstory for each of them. Does it matter that John hates
Betty Crocker
? Some wacky diversions are fine - that's part of MSPA's thing. But it just seems like he's going
downright crazy
with them these days.
---------------------
Only one more shitty post from me and then it is Aloria for a week! Hurrah!