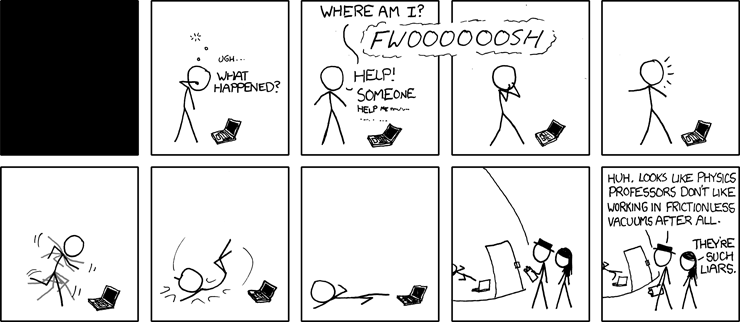 Yesterday (a word which I here am using to mean "the last time I posted a comic") I wrote about how I liked a comic a lot of people here hated (this is unusual, because I rarely like comics at all.) Today we seem to have the opposite problem, where lots of people think this comic is pretty great and I think it sucks hard.
First off, this is the
second time
in four comics that Mr. Hat has made us suspend a crazy amount of disbelief (particularly in the alt-text) while he goes about his crazy scheme. Sure, he can just put that dude in a vacuum, why not!
Hey, here's another occasion where some visual cues would be nice! What if in order to see that he was making a vacuum, you had some stuff (office supplies, paper, text books) also getting sucked out of the dome? As it is vacuum-dome and filled-with-delicious-breathable-air dome look exactly the same, and we have no idea what is happening with that "whoosh" until the end. ALSO we have no idea that guy will turn out to be a physics professor. He looks the same age etc as all the xkcd characters.
The last three words of this comic are typical post-punchline waste (PS if i make a new category page for post-punchline dialog, will you all help me populate it?), and in fact having that girl there at all (is she Mrs. Hat? WE DON'T KNOW because without her hat she looks JUST LIKE EVERY OTHER GIRL randall draws!) is not needed. Why is there a black panel at the beginning? To show that he was blacked out? Going from "all black" to "entirely visible" is not the best way to represent that, visually.
why does the laptop not get sucked out along with the air? there's no friction there so shouldn't it come out with everything else?
Lastly, this whole thing mostly just reminded me of the Magic School Bus episode (HELL YES magic school bus!) where they play baseball in a frictionless stadium, or at least, attempt to and fail miserably and end up learning about the importance of friction. Oh magic school bus. You taught be so much about
science.