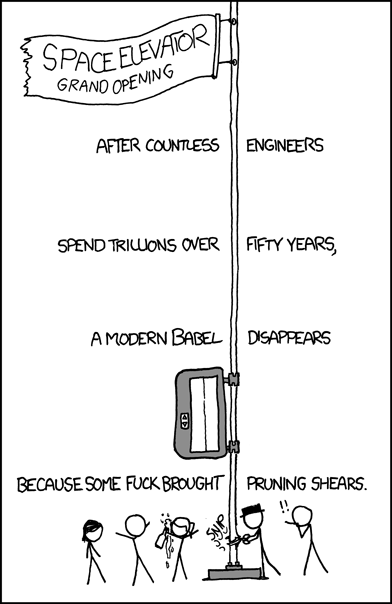 My goodness, my post is late again. I apologize guys, but you must admit: With all the excitement over the opening of the Space Elevator (finally!) I could barely take my eyes off the television long enough to read this comic - appropriately current event themed - let alone post on it.
Wait, no, that's not right. Let me think harder.
Huh.
OH I REMEMBER, that's right, there
was
no grand opening of a Space Elevator! They must have canceled it at the last minute. Right?
Wait no, let me try one more time: People sometimes talk about a space elevator, but it has not been built, or even been in the news at all! That's right. I knew it was something like that. Which is weird, because this comic might be funny if there
were
a space elevator, not just some astronerds talking about one, or if it had at least been in the news in some way recently. Has it? I sure didn't see it.
So let's examine this comic within the context of, you know, reality. This is just "Hey, if there were a space elevator, you could cut it with scissors! maybe!" Which may or may not be true, I don't really care. The point is, yes, if it were possible, then it would be possible. If we built a giant Space Cannon that shot astronauts to Mars mario-64 style, then yes, you could fill it with marshmallows as well and have them get toasted in the atmosphere before landing far away. If such a thing existed. Which it does not.
Oh I guess also it's a poem; that's nice (though I didn't notice it at first, even with the obvious "put the rhyming words on the other side of the space elevator from the other words") but I don't really care. I also don't care that the title has a pun on "shear," because that is not nearly clever enough to justify the rest of the comic.
The End.
oh not the end: fanservice, space nerds. end.