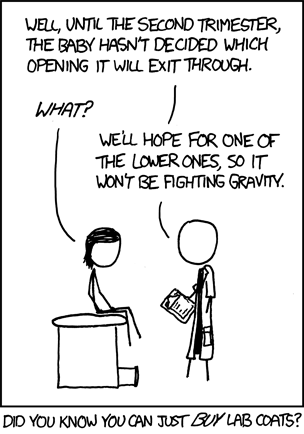 What's up, fuckers? In an insanely irresponsible move, Carl has giving me posting privileges for the upcoming week. That's right - you've got to deal with me for
an entire goddamn week,
and there's fuck-all you can do about it. For those of you that don't know me, the name's Poore (more recently known as The_P), and I type this now with a Warsteiner in hand (and another in my belly) and a head full of incoherent, misomaniacal thought-pieces that I will vomit into a hat and then attempt to piece together into something that may or may not resemble an actual blogpost.
Now then, on to the comic.
I actually liked it. The first time I heard it. When it was a
Demetri Martin bit
(at 2:40). Now, some of you may say "But Poore, it's not the same - Demetri talks about trophies, not lab coats! THE JOKES ARE COMPLETELY DIFFERENT." Those people are retarded. If you thought that, you are retarded. The realization that one can buy a trophy, rather than wasting years of their life training for the activity in which one would win said trophy, and then lie to people to convince them they are a participant in said activity is pretty much identical to the realization that one can buy a lab coat, rather than wasting years of their life training for the profession in which one would wear said lab coat, and then lie to people to convince them they are a member of said profession. They're essentially two instances of the same Mad Lib (the alt-text is even more similar to Mr. Martin's version). And Demetri Martin did it a few years earlier. And he did it better.
So, Randall is a plagiarizing hack, but let's give him the benefit of the doubt and say it was
cryptomnesia
- this comic is still a tired, hackneyed piece of shit. Why? Well, if you're familiar with a little thing called the
Millgram experiment
, the idea that people will listen to anyone in a lab coat has been around since the early 60's. As far as comedy is concerned, the idea of someone masquerading as an expert simply because they look/act the part has been around forever. It's been done to death. Penn & Teller use it as a recurring comedic segment in their show "Bullshit!" (see the
Bottled Water
episode, for example, or...well, pretty much every episode has a segment like that). If you think
real, real hard
about it, you've probably seen comedy in this vein hundreds of times before. So, if someone wants to do comedy of this nature, it better be fucking phenomenal, otherwise I'm going to flip over to porn and jack off for the rest of the night. If Randall wrote for TV, my forearm strength would be fucking incredible.
If you manage to get past those first two glaring flaws that make this pile of bullfuck completely unfunny, you're treated to the joke of "hurr hurr he's telling her her babby won't come out her vag lol". Now I have a juvenile sense of humor. My Halo 3 service tag was "P33" because it looks like it spells "pee". I think the word "shitboats" is objectively hilarious. What I'm saying is I don't have very high standards. I appreciate wit and intelligent humor, but a good dirty joke will still elicit a chuckle. This comic still did nothing for me. Perhaps if he had used "orifice" (which is another word I find, in my immaturity, hilarious) instead of "opening". Perhaps if he had limited it to saying it might shoot out her butt instead of her vagina it would have been funny. But instead, I am treated to the mental image of a newborn clawing its way out of its mother's eyeballs. That's not funny - that's disturbing. That's fucking
Eraserhead
levels of disturbing. Here's a tip, Randall - gross-out humor only works up to a point. If it's going to give your readers visions of demon fetuses bursting out of people's heads, maybe you should reconsider.
So that's what were left with, folks - an unfunny, cliche, borderline disturbing shit-stain on the underwear of the Internet. That's what xkcd has become - the skidmark of the webcomic community. It's not bad compared to the pants-shittingly terrible likes of
Boston and Shaun
or
Electric Retard
, but it's still not something I want to see three times a week.
That concludes my first guest post. Feel free to leave your insipid bullshit feedback in the comments so that I can totally ignore it and then have sex with all the girls you like. See you assholes on Wednesday.