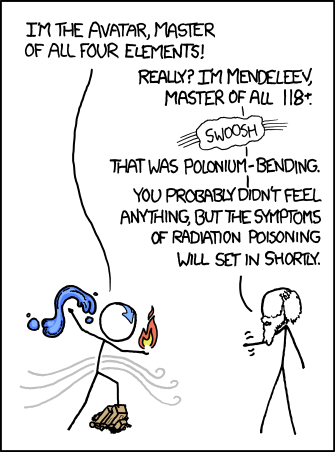 [Comic title: Elements; alt text: Of all the nations, the armies of the ununoctium-benders are probably the least intimidating. The xenon-benders come close, but their flickery signs are at least effective for propoganda. [sic]]
Before we begin, I'd like to point out that Randy somehow has still not fixed the really obvious spelling error in the alt text. This is weird. Usually by now he fixes it without comment. I'm left to conclude he just hasn't noticed it yet, somehow.
Moving on. Apparently Randy has been cut off from Megan's bountiful flow of milky sustenance lately, for surely his pandering has reached peaks not unlike the twin peaks of her breasts as she lies on her bed asleep he watches her, breathing heavily.
The pandering has taken over every part of his being--but no mortal is meant to be a creature of pure pandering. It has filled him with an untold self-hate--he liked children's fantasy cartoons, but he also liked science, and in terms of science this cartoon was dumb. It put forward unscientific theories, worse even than Creationism--it was denying the existence of the periodic table of elements! It still thought there were only four of them!
"Okay, think, Randall Munroe, creator of the webcomic XKCD," said he to himself, calming his fragile nerves. "You can still pander in this comic, you just have to come up with something else. How about, uh. Who invented the Periodic Table? Archimedes or some shit? Wikipedia, don't fail me now . . . ." And so, after being distracted by the articles on lactation and chloroform, he discovered Mendeleev. He had successfully accomplished a double-pander in the space of a single text-filled panel! THE DAY WAS SAVED!
Seriously, Randy? Let's start with how
completely
unoriginal
this joke is. Those are both from 2007, and the joke was already boring back then. With the exception of the double-pander, this isn't bringing anything new to the field. Why are you wasting our time with this? Do you seriously think that 'LOL THE CLASSIC FOUR ELEMENTS ARE WRONG BUT WE STILL USE THEM IN FANTASY EVEN THOUGH THEY ARE DUMB AND WRONG' is funny? Do you think pointing out that there is a difference between the classical elements and the periodic table is useful commentary, or anything apart from expected?
Often in XKCD, the concept is solid but it's ruined by some pretty awful execution. This is not the case here. The concept is pretty awful--the best the joke could aspire to is mediocrity in the hands of a gifted writer--and he basically gives it the worst possible execution, the perfect storm of bad comic-making. Which, well done, Randy, you got me to describe something you did as perfect.