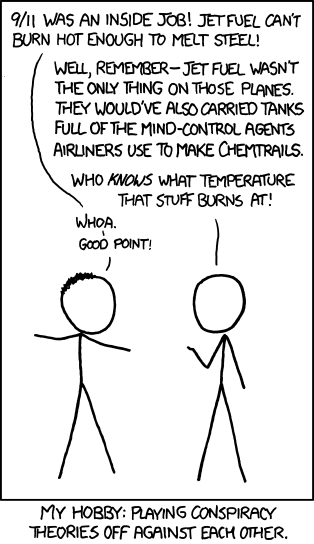 [Comic title: Jet Fuel; alt text: The 'controlled demolition' theory was concocted by the government to distract us. '9/11 was an inside job' was an inside job!]
Normally I'm all about making fun of conspiracy theorists, because they are almost as dumb and predictable as internet atheists or jokes about how Randy has just thought of the best use for Megan's milk ever (OREOS!!!!!!). But Randy is incapable of making fun of someone he disagrees with without throwing in a strawman character who inevitably says "that is very clever of you to notice, Randy, you are as intelligent as milk is delicious and sensual."
Part of this is just the urge for post-punchline dialog, of course. I think he's afraid of telling a joke without showing someone responding to it, for fear that people might not realize how they are supposed to respond. But when he does his strawman comics, it always feels more like he's trying to cue to his audience: "See? I've thought up a clever way to fuck with conspiracy theorists that TOTALLY WORKS."
I admit I'm not given to hanging out with conspiracy theorists--I only like factually supported theories, like the fact that our president was smuggled into the US from Kenya by Bill Ayers as part of a communist plot to destroy democracy and capitalism after we thought the Cold War was over. But I get the distinct impression this would not hold water with actual 9/11 truthers, or chemtrail theorists. Which would be fine, if Randy weren't trying to give the impression that your typical conspiracy theorist would say "whoa, good point" when presented with this argument. That's just annoying. You can do better, Randy.
Well, no, you can't, obviously, or you would have done by now. But that's a thing that you say, you know?