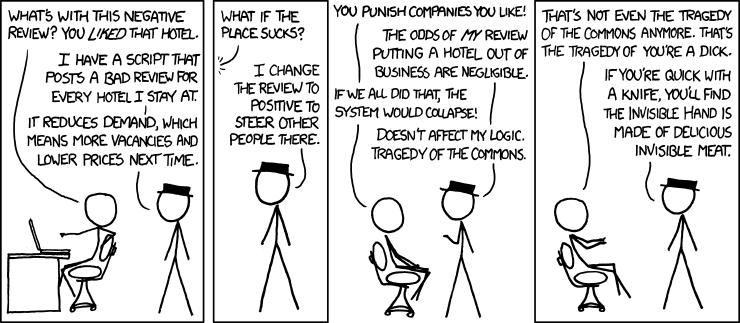 [Comic title: Hotels; alt text: 'Rating: 1/5. Room filled to brim with semen, and when front desk clerk opened mouth to talk, bedbugs poured out.']
This is probably the closest we've gotten to Black Hat Guy behaving in what one would call the "classic" manner if one were completely insufferable. Antisocial self-interest! Randy finally remembered!
Of course, this being a day of the week, Randy's comic is full of problems. Some astute (ha ha ha) commenter pointed out in the previous thread that the inclusion of a script to post negative reviews seems counterintuitive at best. First, it somehow knows when he's staying at hotels, and it automatically assumes he'll like it. But then, since he dislikes hotels sometimes, he often has to go and manually change it. The conclusion that the aforementioned commenter came to is inescapable: the only reason the word "script" is included is so XKCD fanboys could nerdgasm over it.
Then we have panel 3. In this panel, Randy does this thing he often does where he points out the flaws in his plan, but doesn't quite seem to realize it. A single negative review won't drive anyone away from a place. It's pretty hard to find an establishment on Yelp that doesn't have at least one one-star review. Most frequently-reviewed places will have several. This doesn't have a noticeable effect on said establishment's popularity.
As Randy himself observes: "the odds of my review putting a hotel out of business are negligible." He doesn't seem to grasp that the odds of his review having any impact at all, let alone an impact significant enough that BHG is getting noticeably cheaper prices and having a noticeably easier time getting rooms, is also negligible. Perhaps if he were to employ a botnet to make hotels he likes suddenly look like roach-havens? But even then, the loss in revenues would cause a considerable hit in service quality. (Here is the part where people protest that it's just a comic and it's not supposed to make sense and where they probably suggest that I must not like (insert fantasy story here) because it has wizards in it or something. Can we just take that as said and move on?)
The rest of the comic after panel 2 is basically post-punchline dialog--not sure if he's ever done two whole panels of it before. You've got a name-drop of the tragedy of the commons to set up what I guess must be intended as a humorous exchange, and a line that you can tell Randy thought was very clever.