[Noted copyright criminal "The Pirate King" sent me this review for the one about King Wenceslas. So, you're welcome. -Ed.]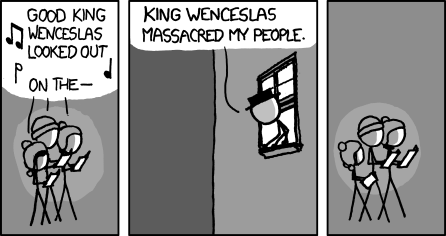 So, we've got a christmas carol comic in early october. That's cool I guess, I mean all the stores are gearing up for the holidays so why shouldn't xkcd? Or I don't know, maybe Randall's been working on this one for the better part of a year and finally found the courage to publish it. That would make more sense given this comic's track record with timeliness.
So it's another black hat guy comic. As much as I agree that randall has totally forgotten how to do these, I find them a relief from the usual crap, ie, some horrible pun, nerd reference, or emotional bullcrap. I mean who doesn't like some good ol' fashioned trolling?
That being said, this is a pretty tired joke. It's the setup where one character is trying to tell a joke or be enthusiastic about something, and another character kills it with tragedy, and then the first character feels guilty. "How dare you say that, my father was killed by a _____!" Randall is just putting it in a different context, and one that doesn't make any sense. According to Wikipedia, an infallible source of information on all things everywhere, King Wenceslaus didn't massacre anybody. So check your fucking facts, RANDALL.
I did find a tidbit in the alt text amusing, although not in the dark-humor way that randall intended it. To my knowledge, the phrase "a thousand generations" can come from only two sources; the Bible, or Star Wars. Since Randall has made it clear he is an atheist, I can only assume this is a Star Wars reference; possibly an unintentional one.