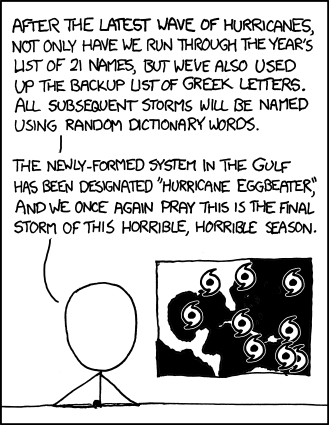 [Comic title: Hurricane Names; Alt text: "After exhausting the OED, we started numbering them. When overlapping hurricanes formed at all points on the Earth's surface, and our scheme was foiled by Cantor diagonalization, we just decided to name them all "Steve". Your local forecast tomorrow is "Steve". Good luck."]
Since your friend and mine Irene recently visited the east coast, Randy spent some time reading about hurricane naming on Wikipedia. Being the sort of person who probably thinks of himself as a "hacker" because he knows what a programming language is, when Randy is presented with a new system, he tries to find the flaws in it, with all the grace and finesse of a three year old pouring his own milk. "WHAT IF THERE'S SO MANY HURRICANES THEY RUN OUT OF THE SECOND LIST" he found himself screaming at the monitor.
It was at this moment that inspiration struck. "I know! I can write a whole comic about how silly it would be! There could be a hurricane, um . . . EGGBEATER!!!" But there was the same flaw in his system: there are only so many words in the English language. (Three, at last count.) But Randy was already on the genius train bound for XKCD, and just decided to write that into the alt text. Because lulz, hurricanes cover the face of the earth!