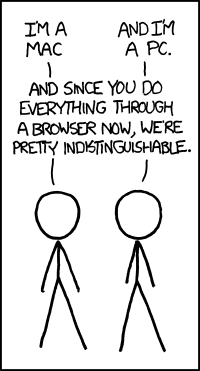 [Comic title: Mac/PC; alt text: It's fun to watch browsers fumblingly recapitulate the history of window management. Someday we'll have xmonad as a Firefox extension.]
It's nice to see Randy is back to his boring old self again. Randy thinks that people don't use anything that isn't a browser anymore, which is why we've all switched to netbooks and the powerful computer is pretty much obsolete now.
Er, wait.
As is usual when I have nothing to say about a comic, I decided to stop by the forums for this one. They don't have much to say about it--mostly they're talking about browsers. One person called it mediocre, one seemed to like it. And then one of the regular posters said this:
Mightn't this have been a better comic if it were released back when the "I'm a PC, I'm a Mac" commercials were actually airing?
Confidential to Randall Munroe: Your comics are so outdated that even your loyal fans are complaining about how outdated you are. Time to step things up a bit.