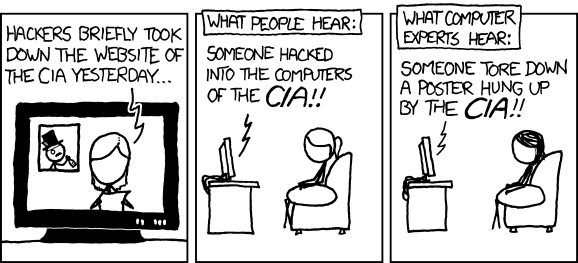 [Comic title: CIA; alt text: It was their main recruiting poster, hung nearly ten feet up a wall! This means the hackers have LADDER technology! Are we headed for a future where everyone has to pay $50 for one of those locked plexiglass poster covers? More after the break ...]
I'm getting mixed messages from this one (HENCE THE TITLE DID YOU SEE HOW I MADE THE TITLE RELEVANT TO THE POST you can love me now if you like). I mean, it's obviously more of Randy's smug "I'm smart and people who don't love computers like I do are dumb" bullshit, but it looks like he thinks that this time when people are misinformed it's their fault--this is "what normal people hear" versus "what computer enthusiasts hear," rather than "what the media is saying" versus "what is actually happening."
You may recall a
particularly rapey comic
about the bailout back when this economic crisis that launched XKCD Sucks to fame and fortune started. The implied threat of raping someone's daughter was directed at the media. But in this case the media doesn't appear to be at fault--though his usual "OMG MEDIA IS LYING ABOUT COMPUTORZZZZ" rage does appear in the alt text.
Since this comic is otherwise pretty boring--people are wrong sometimes! shocking!--I've decided to visit the
forodes
to see what they think.
There's some arguing about the analogy:
...it's not even that they tore down the poster, more like they got a whole bunch of people to stand in front of it so no one can see it. So basically we're talking about the digital equivalent of a sit-in.
There's some alarmism w/r/t people not understanding technical details of computing:
Yeah, I can definitely relate. People's reactions to the "situation" are often scarier than the situation itself. It troubles me that we live in a world so dependent on technology, yet very few people really understand it.
And some idiot who thinks that he has a solid grasp on the economy and wants to share with the class:
Love it. This is what I tend to hear with most news stories. "The economy is doomed" is usually translated to "we need to print more pretend money, but the guy in charge prefers not to devalue his hoarded millions" in my head.
But overall pretty boring. They're complaining about how the word "hacked" has become widespread, arguing about alt-text vs. title text for some reason, and generally being boring nerds arguing about stupid shit nobody cares about--something that never happens here on "XKCD Makes Me Profoundly Unhappy And I Am Learning A New Language Just So That I Can More Fully Describe The Depths Of My Despair."
Oh shit, I take it back. I take it all back about this thread being boring. I think I've just found
the dumbest comment on the XKCD forodes, ever
:
When I see/hear the word 'hacker', the first thing that comes into mind is people like Eric Raymond, Linus Torvalds, Ken Thomson, Dennis Ritchie, Stallman, Knuth, etc etc...
When I read this comic, my imagination produced this in my mind:


hypothetical famed hacker wrote:...Damn, now I have to come up with something significant AGAIN in order to remind people that I'm a renowned expert in the field, so that I have the right to claim that I get this strip!

Better get to work, instead of tearing down other people's posters...
This computer enthusiast believes, or fantasizes, that famous computer people read XKCD and . . . I guess they think it's so brilliant that they want to go out there and remind everyone that they have sufficient credentials (and this fanboy seems to think you need credentials to understand XKCD) to appreciate its brilliance? That, in essence, Randy is so brilliant with his vast knowledge of computing that he makes luminaries of the computer science community act like retarded fanboys in order to prove they "get it."
This comment alone makes it all worthwhile.