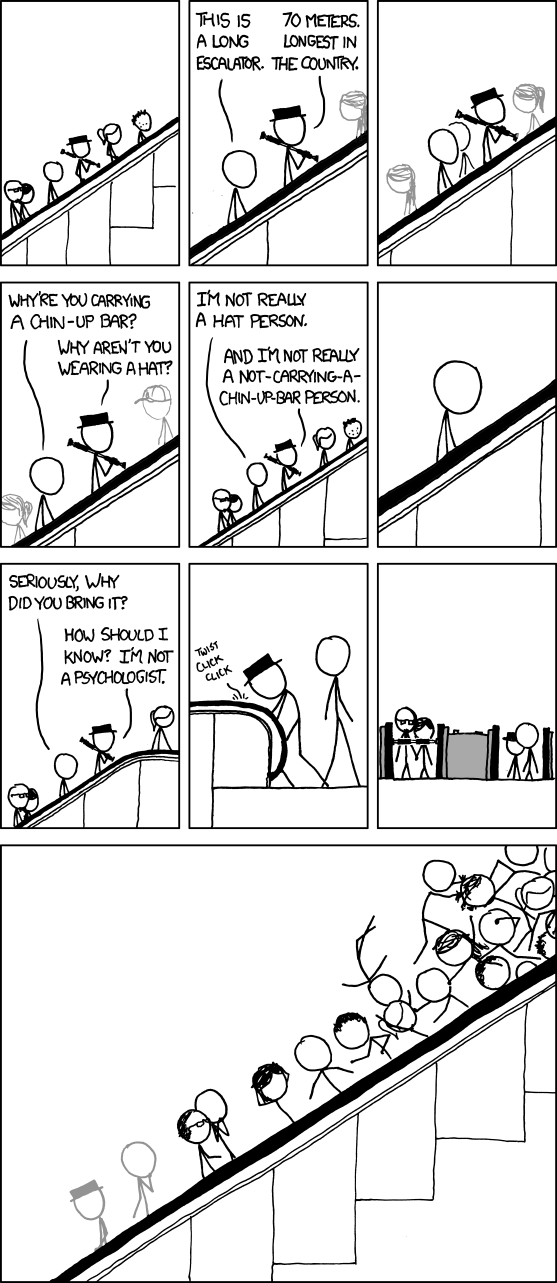 [Comic title: Chin-up Bar; alt text: Those few who escaped found the emergency cutoff box disabled. The stampede lasted two hours and reached the bottom three times.]
I'm going to break this one down by panel.
Panel 1:Oh man, it's Black Hat Guy!
Panel 2: And oh man he's on an ESCALATOR! Oh man this is going to be so fucking wacky I'm going to SHIT BALLS AND TRIP BRICKS.
Panel 3: BEAT PANEL SO EXCITED
Panel 4: Oh that's a chin-up bar! WHAT IS HE DOING WITH IT I MUST KNOW
Panel 5: Ha ha ha, ZING! Not-a-hat-person gets taken down a peg! Or maybe a step, because he's on an escalator? Eh? Eh?
Panel 6: WHERE DID BLACK HAT GUY GO WHAT IS HE DOING
Panel 7: Oh he's still on the escalator but man DOUBLE ZING. Ha ha ha "I'm not a psychologist." Too true, Randy! Who knows why we do anything???
Panel 8: oh man this has been the most epic build-up ever what is he doing is he
Panel 9: HA HA HA HA IT IS ACROSS THE ESCALATOR OH MAN
Panel 10: IT IS FUNNY BECAUSE THEY ARE FALLING DOWN BECAUSE OF THE CHIN-UP BAR BLACK HAT GUY PUT UP HA HA WHAT WILL THEY DO THEY CAN'T AVOID IT BECAUSE THE ESCALATOR IS MOVING
UPDATE: btw this is the 666th xkcd sucks post! I know I'm excited.