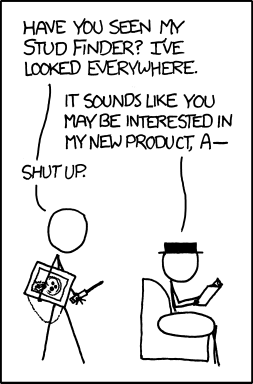 [Comic title: Stud Finder; alt text: According to every stud finder I've tried to use, my walls contain a rapidly shifting network of hundreds and hundreds of studs.]
Randy has this problem with punchlines. Usually he writes what we have started calling post-punchline dialog, wherein his characters comment on the punchline after it's happened, really stealing the thunder from the moment by letting it drag on too long. Perhaps in response to this, we get this comic.
So, rather than ending the comic one sentence before the punchline, Randy actually prevents Black Hat Guy from actually delivering the punchline--we are left to assume he was about to offer a Stud Finder Finder (I have been unable to find any cuddlefish who disagree on this premise, unfortunately). But he cuts himself off before he actually delivers the joke.
And then--AND THEN!--he still adds the post-punchline dialog. "Your joke is bad and I want you to shut up," he says to himself, which, I mean. That's what we've been saying to you for years, Randy. It's okay to stop.