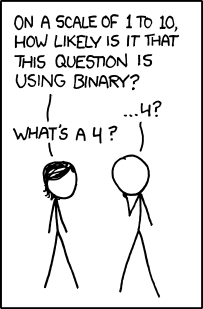 [Comic title: 1 to 10; alt text: If you get an 11/100 on a CS test, but you claim it should be counted as a 'C', they'll probably decide you deserve the upgrade.]
I guess Randy got the memo that on the "stud finder finder" comic, his fanboys were complaining that it wasn't nearly meta enough (though they had faith that there was something super deep that they weren't nearly brilliant enough to comprehend), so he sat down and thought really, really hard about how to make a comic self-referential. He sat down for hours and hours, posting the comic so late that I was pretty sure he was making another poster comic. It could have been something interesting, or at least something that shows that he's willing to put a lot of time into things.
But no. Instead he gives us this. He gives us the same joke as
this damn comic,
which has been around for ages, but with the added drawback that Megan is for some reason confused about the number four. Despite being a human who speaks English and has learned to count in base ten, she doesn't understand what a four is. Perhaps we are meant to assume she's joking (because she is as quirky as her tits are milky, and will often pretend to do quirky things like be a binary-robot, for laffs (and sexiness))?
The
best
worst part of this comic, though, is the alt text, which has been full of winners lately. "If you understand binary, you are probably good at computers! They will give you a better grade! lolololololol!" Jesus Christ, Randy, make a goddamn effort, won't you?