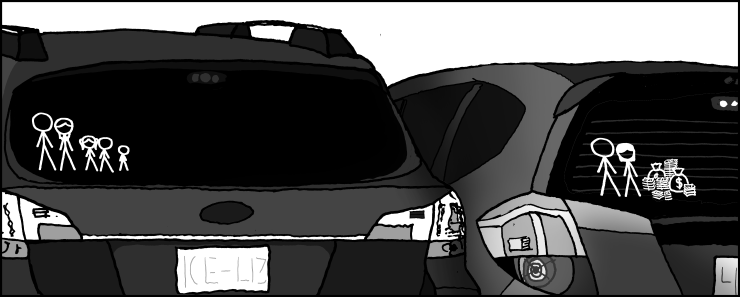 [Comic title: Family Decals; alt text: My decal set has no adults, just a sea of hundreds of the little girl figures closing in around a single cat.]
This comic is so incredibly boring I'm not even going to comment on it, except to make this observation about the art:
It looks as if Randy has spent a great deal of time to make these cars, no doubt working from a photo he himself took. And yet there is something fundamentally off about them. They look acceptable, sure, but it is immediately apparent even at a glance that this is not the work of a talented artist; this is the work of a man who, given ample time, is capable of making something which looks acceptable.
Normally I'd say his gifts lie elsewhere, but unfortunately he hasn't yet demonstrated that he has any gifts to speak of, and like Marlow before me, I hate lies. They smell funny.
[Update: hahaha I linked the comic URL instead of the comic image, MY BAD]
[Further update: IT'S ALL FIXED NOW HAPPY?]