948. Alt text: And they both react poorly to showers.
Randy is jealous of his loser tech friends who have the money and free time to go down to Burning Man, a festival (?) which is populated mostly by sad tech people desperately trying to prove to themselves and others that they are wacky and fun.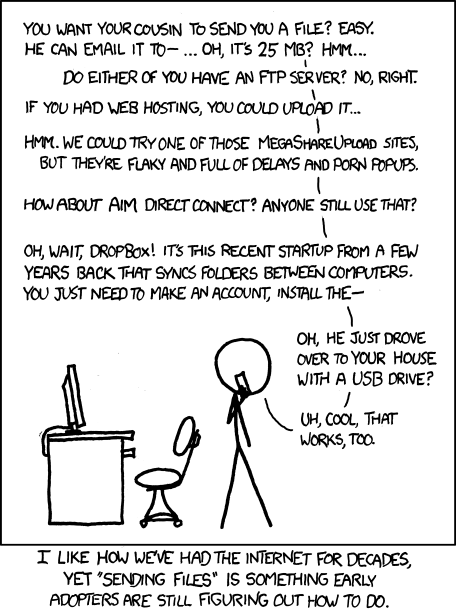 949. Alt text: Every time you email a file to yourself so you can pull it up on your friend's laptop, Tim Berners-Lee sheds a single tear.
This one has all of Randy's favorite vices in it. Dialog that in no way resembles how a human talks--let's imagine the conversation if we could actually hear what the other person was saying.
Randy: He can email it to--
Fred: It's 25 MB.
Randy: Oh, it's 25 MB? Do either of you have an FTP server?
Fred: No.
Randy: No, right. Well, we could use dropbox--
Fred: Actually he just drove over to my house with a USB drive.
Randy: Oh, he just drove over to your house with a USB drive?
Brilliant! We've also got a wall of text accompanying a completely useless illustration. Thanks for drawing a dude on a phone, Randy! There's NO WAY we could have figured out what was going for otherwise, you paragon of sophistication, you.
Next, Randy seems to think that a 25MB attachment should be a problem for most email services--gmail, at least, has a 25MB limit. Maybe it's slightly above that limit in size, but it would be a lot more compelling if the file size was something that was somehow difficult to deal with. Similarly, his reason for avoiding MegaUpload-style sites is that they're full of porn popups. Randy has consistently demonstrated that he doesn't seem to know that adblock exists--making multiple comics whose original filenames get blocked by adblock, and now acting like porn popups are insurmountable. This is especially odd since Randy brought us
this comic
. Perhaps he's stopped using it since then? But speaking as someone who has sent and received a lot of files using such services: they work fine, especially if you're only sending one file. AIM file transfers are sometimes flaky but are hardly worth dismissing out of hand.
And of course we have the captioning-something-that-doesn't-need-a-caption, Randy's old trademark. "In case you didn't get it, this was an incredibly nuanced depiction of the problems with sending large files over the internet. I know you were wondering what it was about."
Oh, and I almost forgot the meaningless name-dropping in the alt text! The inventor of the World Wide Web definitely cries when you . . . use web-based email to store a file for easy access on other computers, I guess? Because it wasn't an explicitly intended purpose of the web, even though "storing something for easy access on other computers" seems like it's more or less the entire point of the web? And using something in a way which wasn't explicitly intended is a bad thing which makes its creators weep instead of a clever way to get around some of the problems technology presents?
You're supposed to like these workarounds, Randy.