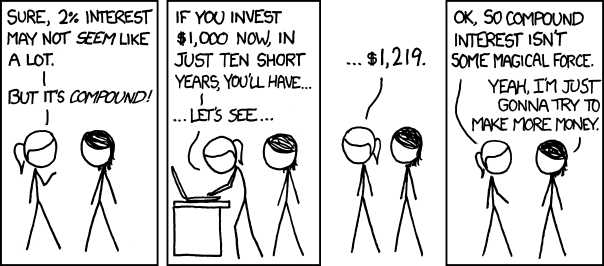 [Comic title: Investing; alt text: But Einstein said it was the most powerful force in the universe, and I take all my investment advice from flippant remarks by theoretical physicists making small talk at parties.]
Before we go into this comic, I'd like to point out that this is not the original comic that Randall posted. The number in the original comic was $1279, a number which is apparently in error (I obviously am far too lazy to check this sort of shit). I guess $1219 is the correct number, though. Good thing Randy takes the time to proofread and then inform everyone of his mysterious edits!
Now, the comic itself. It looks like Randy's really upping the sneering disdain for concepts he doesn't understand lately--this is two of the past three comics where he sets up a smugness strawman! This time it's investing. "Investing is dumb," he says. "If instead of investing $1000 you got a job writing a shitty stick figure comic thrice-weekly, you'd have way more money in ten years. I mean, I get a thousand dollars every time I sneeze, and I don't even have to try!"
Those of you who aren't some form of shelf fungus might have noticed that this is a false dichotomy. In Randy Land you can either invest, or you can try to make more money. It's impossible to do both! And since the return on a relatively tiny amount of money over time is also pretty tiny, it's better to just make more money, instead of relying on that whole investing stuff.
I'm not here to advise you on your investing future, of course, but the premise here (investment is dumb) seems rather flawed. Indeed, there is an entire segment of the population which makes its living entirely on investment. It's kind of a thing. Now, far be it from me to question the financial wisdom of Randall Munroe, who was totally a NASA PHYSICIST before he was a t-shirt salesmen, but I think it is worth observing that the ultra-rich, who are ultra-rich and have lots of money, invest.
This comic has, predictably, started plenty of nerd arguments about economics and maths, but none of it is interesting, except for the nerds who seem to think that you can get a guaranteed eight percent return on investments somewhere, which, where do I sign?