950. Alt text: The Roanoke Lost Colonists founded Roanoke, the Franklin Expedition reached the Pacific in 2009 when the Northwest Passage opened, and Jimmy Hoffa currently heads the Teamsters Union--he just started going by 'James'.
Every now and then Randy thinks that he is capable of producing humor of the absurd variety: wouldn't it just be WACKY if Amelia Erhart didn't get lost but was actually just flying around the world REALLY SLOWLY? Imagine how funny that would be! And then she'd come back and she'd be all "sup guys I made it" and people would be like "BUT YOU DISAPPEARED" and then because she's a woman she'd be like "lol you are male and therefore too dumb to even appear in the same panel as me! Maybe you should fetch a woman because women are way smarter than guys, whose primary purpose should be protecting ladies on the internet, AMIRITE?"
...I think that one got away from me a bit. The point is: lolrandumb humor is not funny, and it is even less so when Randy does it, because you can tell he's really trying to make it smart, even though it's still nothing more than lolrandumb. I hope this isn't a new trend, because these are extra annoying.
Also, special shout out to "what's that airplane?" as one of the dumbest things any human has ever written, ever.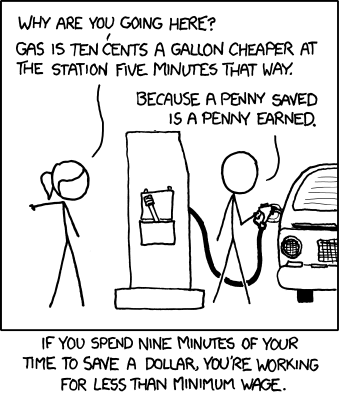 951. Alt text: And if you drive a typical car more than a mile out of your way for each penny you save on the per-gallon price, it doesn't matter how worthless your time is to you--the gas to get you there and back costs more than you save.
Yet another comic in which Randy uses maths to prove that you're really dumb! How dumb are you? You're so dumb you think that saving money is worthwhile! Don't you know that spending less money is only worthwhile if it pays better than minimum wage? What, you mean you don't have a limitless supply of income from doing no work three times a week? What kind of chump are you?
Apparently in Randy's world, spending NINE WHOLE MINUTES going out of your way to save money is the dumbest thing you can do, because apparently every goddamned second of this life is precious and to spend it doing something like pumping gas is utterly demeaning! You could be out there writing about breast milk on Google + and making shitty chart comics about cancer for your webcomic! Life is too short to waste any time on saving money when you don't have to worry about saving money!
Listen, Randy, you worthless little condescending shit. Some people don't have the luxury of sitting on their ass all day to make a tidy income selling awful t-shirts and posters to awful people who want to identify themselves as fans of your awful comic so they can have awful conversations about your awful comic with your other awful fanboys. Some people "work for less than minimum wage" to save money because otherwise they would not be able to afford what they are buying in the first place--or buying it would make them unable to afford something else they want or need. Some people have to make tough financial decisions. (This to say nothing of the fact that a lot of individual savings--a dollar here, a dollar there--can really add up over time.)
And what kind of a stupid measure of worth-your-timeness is that, anyway? When you spend ten minutes to buy twenty dollars of groceries, you are paying
sixty
120
[ha ha ha my bad -Ed.]
dollars an hour for the privilege of eating!!! When you tip a dollar for the drink it took you a minute to get you are paying the bartender sixty dollars an hour!!! This is a fundamentally dishonest way of thinking about money, spending, and saving.
And just look at that fucking alt text. "No matter how worthless your time is to you"--as if that's the only reason for someone to spend a little extra time in order to save money. Because your time is worthless to you.
I suppose I shouldn't be surprised that Randy is using dubious math and dishonest statistics to prove that some useless aspect of his personality is actually desirable, but there you are.