989.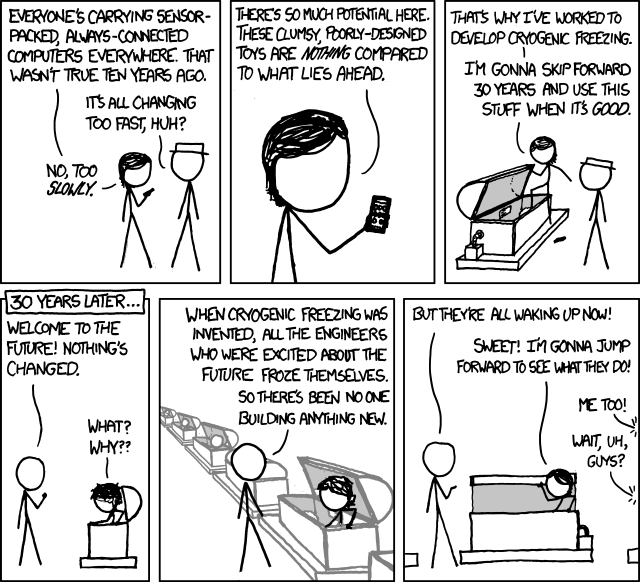 [Comic title: Cryogenics; Alt text: 'Welcome to the future! Nothing's changed.' was the slogan of my astonishingly short-lived tech startup.]
So basically this comic betrays Randall's true nature--that is to say, the fact that he is not an engineer but a passive consumer of goods, but he still thinks of himself as an engineer.
Engineers are, of course, the people who are working to produce new things--something Randall hasn't done in a very long time. The idea of an actual engineer, someone who is actually working with technology, deciding to go "eh, I'll just wait thirty years for the tech to become interesting," is kind of implausible. Why would you not want to be a part of that leading edge of innovation? Why would you want to just skirt along on its coattails? Certainly, we want to live in the future we're creating for ourselves, but to be a human, to be a creator, an innovator, is to want to be a
part
of that creation, however small.
Randall has, apparently, lost this. This isn't surprising, of course. I've mentioned that Randall is a creature who sedately consumes in the review for comic
662.
But what is surprising is that he still considers himself an innovator although he is patently not one, and that he seems to believe that all other innovators are like him.
Everyone who is excited about the future, he suggests, would rather skip all the boring bits of "invention" and "design" and "innovation," and instead just want to live in the world where all that shit is done for us!
It makes me truly, profoundly sad to think that there are people out there capable of making this comic.
990.

[Comic title: Plastic Bags; alt text: The high I feel when I actually remember to bring my reusable bags to the store--and take them inside rather than leaving them in the parked car--can last for days.]
So, for some reason Randy is writing a comic about how he (a) doesn't ever remember to bring a reusable shopping bag (b) doesn't like how many bags the people at the grocery store use to bag his order. Okay!
Maybe it's because I have a giant messenger bag that I use for all my shopping, but I do not understand in the slightest why this is a comic. Maybe someone else can enlighten me.