[We've got a special treat for you today here at xkcdsucks. First, a guest post by "Ann Apolis," noted awful person. Then, some more words by your editor. -Ed.]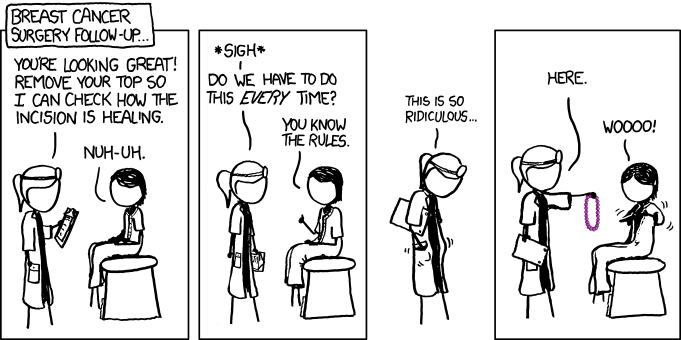 [Comic title: Making Things Difficult; Alt text: "Favorite mastectomy breast prosthesis idea: a fake boob containing a spare rechargable battery, accessed via a nipple USB port. Complete with a ring of LED charge indicators in the areola!"]
1. CANCER CANCER CANCER (oh yeah I hope you've noticed that "Some context for the cancer comics". "GUYS JUST IN CASE YOU FORGOT: CANCER. I KNOW I DON'T MENTION IT MUCH SO")
2. lol boobs
3. stick figures wearing clothes makes them look like creepy hunchbacks
4. "nuh-uh": why do nerds fetishise adults behaving like children? the ballpit thing is like this too. hence you have forumites saying "
Anyways, I really hope Randall's wife does this in real life
" and such. protip: maybe it would be easier to argue that liking animation and graphic novels isn't childish if they people who read them didn't tend to behave like children all the time
6. the alt-text is 'why can't women be more like computers amirite guiz' and 'lol boob' and 'mmmmm nipples' all at once
7. so yeah slitting my wrists see you all in hell
===
Hello, cuddlefish, Rob once again. I have a special request! I want you to remember this comic every time you are tempted to say that I'm making up Randy's creepy fetishes. One boob for milk, one for charging his Android.
That is all.