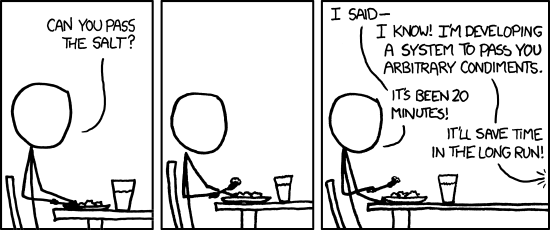 [Comic title: The General Problem; alt text: I find that when someone's taking time to do something right in the present, they're a perfectionist with no ability to prioritize, whereas when someone took time to do something right in the past, they're a master artisan of great foresight.]
This is another one of those comics which might have been okay if Randy had left it alone. It's possible this is just my "I hate when geeks do this" talking, but I am always happy to see the geek's tendency to spend hours trying to come up with a way to make a task that takes very little take time take even less time satirized. Which is what the comic is standing on its own!
Of course, we still see that Randy isn't quite sure what a beat panel is for. Apparently he thinks it indicates that twenty minutes have lapsed. Apparently, he also waits for twenty minutes before asking for the salt again when his request is initially ignored. Admittedly, whenever I ask someone to pass the salt it
ends like this
, so I may not be the best person to judge, but I feel that most people would have either repeated their request, gotten it themselves, or flung the salt shaker against the wall to make a point by the time twenty minutes had lapsed.
(This is as good a time as any to note that when people complain that a comic is not realistic, they are actually complaining that it lacks verisimilitude. The distinction is nontrivial: a fantasy adventure story may not be realistic, in that it contains wizards and elves and women who are not frivolous and weak, but it may contain verisimilitude. That is to say, when reading the story, the wizards and elves and women who are not frivolous and weak are believable within the context of the story. They behave in believable fashions. When reading about the wizards and elves and women who are not frivolous and weak, verisimilitude is never broken by someone saying "wait, that wouldn't happen." Randy, in contrast, can hardly go two comics without making people stop and say "wait, that wouldn't happen.")
I suggested in the opening sentence of this review that Randy didn't leave it alone. He usually fails to leave his comics alone by injecting an alt text that usually completely ruins it. In the alt text, he reveals himself to be the tortured genius that he is. No doubt he spent too much time performing a mundane task in recent memory and he was called out on it. "I bet you nobody called Einstein out for being a perfectionist when he was inventing the light bulb," he muttered, finishing his mundane task more quickly than he would like--but he swore then and there that he would exact vengeance by writing about it on his comic one day, oh yes.
I admit it is possible that a whiny alt text like this one could just be the product of Randy's imagination, but it nevertheless reads like Randy has problems with the fact that his so-called perfectionism annoys people when it makes him unable to perform simple tasks in a timely fashion. So he draws a false dichotomy: "if you don't let me focus on frivolous minutiae whenever I feel like it no one will ever look back on my works and proclaim me a genius!"
The sad fact is, of course, that Randy already has a legion of fans who are happy to proclaim his works a genius even when he patently spent no time on it at all. He has a persecution complex, but no persecution, even when that persecution would be richly deserved.