[This is the standard notification I put at the head of every guest post notifying you that it is a guest post. This one is written by noted archaic concept "the pirate king." -Ed.]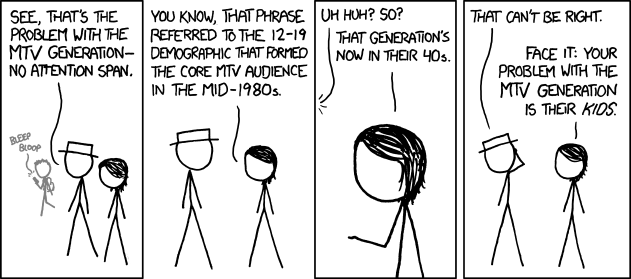 [Comic title: MTV Generation; alt text: If you identified with the kids from The Breakfast Club when it came out, you're now much closer to the age of Principal Vernon.]
Oh look, it's white hat guy! Hello white hat guy! Does anyone remember white hat guy? He first appeared in this comic, and has since appeared in three others. His character has no consistency whatsoever! Even less so than black hat guy or beret man.
So apparently in this one, White Hat Guy is a crotchety old person. Or it seems that way. Randy is once again pointing out to us that time continues to pass even during the years you spend zoned out on the internet. Yes, the MTV generation is in their forties, blah blah, people get old. The conclusion of the comic doesn't seem to make much more sense than White Hat's initial premise.
"No, it's this NEW generation of kids who are spastic idiots!" Randy cries. So I guess Randall is really the crotchety old man here. This joke is tired and overused, and randall's delivery, as usual, lacks any and all creativity.
Ooh! But look at the use of perspective in the first panel! The tweenster is faded out, so you can distinguish him from a hovering midget! Or maybe they're in the future and that's a hologram, I don't know.
Also, I'd like to point out that the alt text is yet another chance for Randy to point out how dated movies and shows he liked when he was a kid are. He does this again and again and again. Face it Randy, you're getting old.