Good evening. welcome to the blog, those of you who are new. I know it's a tough day to be a reader of xkcd. Pull up a chair, why don't you? You may be here for a long time. I know I certainly have a lot to say today. Jay even got so upset that he went and wrote
his own post
about this comic! Why, even cranky old Rob came out of his shell and
wrote a post
. Emotions, it would seem, are running high. Let's talk, no?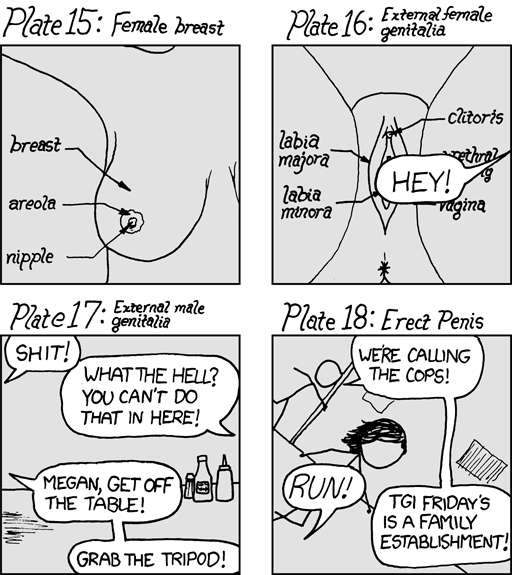 OH. HOLY. CRAP. OH WHAT THE FUCK. WHAT THE
FUCK,
RANDALL? what is this supposed to be? Seriously, tell me what it is supposed to be. I don't have a fucking clue.
No? You aren't going to say anything? Well that sucks, because I'll tell you what the fuck this comic looks like to
me.
It looks like the little story you are trying to tell is this.
Man (let's call him "Randy") and woman (conveniently labeled "Megan") walk into a restaurant.. They take off their clothes. They take pictures of themselves and label the various interesting parts of themselves that they see. They are asked to leave the restaurant.
Is that the story you are trying to tell, Randall? Because if so, YOU SUCK IN EVERY POSSIBLE WAY.
For one thing, EW GROSS. when we want to look at pictures of naked people, we have other websites for that. Your website is for giving us humor, or in my case, seething hatred. NOT NAKED PEOPLE. to repeat: WE HAVE ALREADY GOT GOOD SOURCES ON NAKED PEOPLE please do not feel the need to join them!
Now I know a lot of people are saying that I (and those like me) only object to this comic because of the GRAPHIC NUDITY. We are prudish medieval types who do not like to be reminded that people are naked sometimes. So let me reiterate: I don't object to graphic nudity. I object to it
being in my webcomics.
xkcd has a prissy disclaimer at the bottom, talking about how it sometimes has "strong language (which may be unsuitable for children)." Maybe it's time he adapts that to include the phrase "...and VAGINAS, which may be unsuitable for anyone NOT EXPECTING TO SEE VAGINAS AT THIS PARTICULAR MOMENT IN TIME."
the loud objecting to UP CLOSE VAGINAS may, unfortunately, distract people from the other terrible problems with this comic, such as, to chose one particular flaw,
it makes no fucking sense.
Why the hell are these people taking such pictures in such a place? If you are going to have them be at a restaurant and tell us that they are there, we need a
reason.
Doesn't have to be perfect - maybe the lighting is just right there, maybe they want to make little food versions of their vaginas, maybe they just want to scare little kids or get revenge on a waiter - the point is, all we have now are two people gettin' crazy at a Friday's and that to me just suggests: Complete and horrible psychosis.
The alt-text ("For many of the anatomy pictures on Wikipedia, I think this is actually not far from reality. They only look all formal and professional due to careful cropping.") makes me wonder if the joke is supposed to be making fun of explicit photos on wikipedia, and their low quality. Maybe? The only little problem with that is: Making jokes about crappy porn will only entertain people very familiar with said porn (ie, creepy losers) and means that if you've spent enough time looking at those pictures, why, look at that! You are the
king
of the creepy losers!
--------------------
Randall Munroe, you must understand, is an artist. He
must
be, otherwise his
graphic
depictions
of
sex
would basically be pornography, not
art.
And while he certainly visits the pornographic haven that is 4chan on a regular basis,
surely
he as a human is
far
above that level. Far above.
And you see, as an
artist,
Randall has to make
artistic choices.
So for example, whereas a lowly plebian like you or me would just draw some silly panels showing what happened in the story, Randall presents us with the finished product of our two heroes' adventure. They are creating illustrations, you see, of human anatomy, for a text of some kind. That is why they are so clearly labelled and numbered!
But there is more to it.
Because Randall Munroe, you must understand, is an
idiot.
He
must
be, otherwise his slides wouldn't
fucking have speech bubbles on them.
Also he wouldn't
draw such a detailed fucking girl
only to zoom out oh-so-slightly and have her revert to stick-figure-ness. Look: You can draw stick figures if you want, but don't expect us to believe that they are anatomically correct. They're stick figures! christ.
Also where, exactly, are these "plates" being shown? In a book? On an overhead projector? I know it seems trivial but I ask because why would they include plates 17 and 18, which are clearly
not
what they are labeled as (because Randall is not quite comfortable enough in his heterosexuality to draw male anatomy, just yet, though to be fair he is willing to
talk
about
it an
awful
lot
) and of course, there is the question of why these photographs have
speech bubbles on them.
Isn't that a good question? I wish I could take a picture of someone talking and have their words come out on the camera, but I cannot.
Hey HERE'S ANOTHER QUESTION: who took the picture in the last panel, and why?
why oh why did they want to do this in a restaurant?
----------
Who's got class? The dude who posted
a blog post about urinals
the same day he gave us this piece of shit comic! woooo! ps all your urinal-theorizing is OLD JOKES. very old.
----------
Lastly, there is one last little detail about this comic that I am sure most astute readers of the blog noticed instantly: Our good friend Megan has returned.
Megan, for those of you who do not know, is the generic girl in xkcd. She is often singled out by name. For a while she was just
breaking up with Randall
, then he started
stalking
her, so that was weird, and now we've got him drawing lots of GRAPHICALLY NUDE pictures of her on the internet. Why? Oh lord, why? I don't care if Megan is real or not (ok that's not true, I hope to god she is not real) but when Randall keeps using the
same name all the danged time
it feels creepy anyway. It feels like "I have not gotten over this girl so I will obsess about it inappropriately on the internet." To avoid it, there are two steps you can take: Use different names each time, or stop being SO GOD FUCKING DAMN INAPPROPRIATE. Hm? HM?
------------
Christ this comic is just so horrible in so many ways. Can people please, please please realize that xkcd is terrible now? Please? let's just end this collective nonsense and spend time with things that make sense and are funny, and most importantly, DO NOT INVOLVE A SINGLE CARTOON VAGINA.
is it so much to ask?
fun facts: this post had 175 comments

before

I even updated the placeholder with actual content. Also, 6000 people visited this blog today. DAMN! this comic seriously started the shitmost of shitstorms