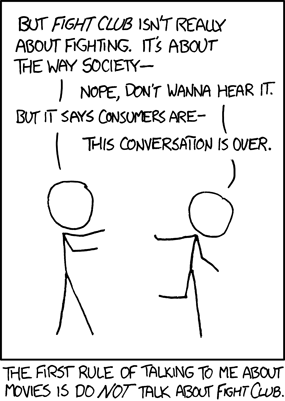 [Comic title: Fight Club; alt text: "I'm not saying it's all bad, but that movie has not aged as well as my teenage self in 2000 was confident it would."]
Apparently someone tried to talk about Fight Club with Randy today, and he was just like "ugh shut up that movie is so over" but then, THEN! later on he was like "oh man wouldn't it have been great if instead I was all like 'this conversation is over' just like Tyler Durden in the movie? And then I could be like 'yeah the first rule of talking to me about movies is do NOT talk to me about fight club!' and then they'd be like 'oh man sick burn' and we could talk about why Wikipedia's article on lactation is so woefully incomplete, it would be hot."
I want to make it perfectly clear here: Randy's idea of a joke is making a Fight Club reference to tell people he doesn't want them to talk about Fight Club--a movie which
he has referenced before
. I will give him points for "this conversation is over" as being at least natural-sounding, though he loses all those points and then some for the really hamfisted caption.
I admit I envy Randy's position here. When he has a case of
l'esprit d'escalier
(my favorite German phrase), he can just make a comic showcasing the sick burn he totally would have said if he weren't bound by the limits of linear time. And then his friends will all feel ashamed that they talked about Fight Club to Randy, who is so great and clever and comes up with all these great comics, and then maybe someone will finally love him!