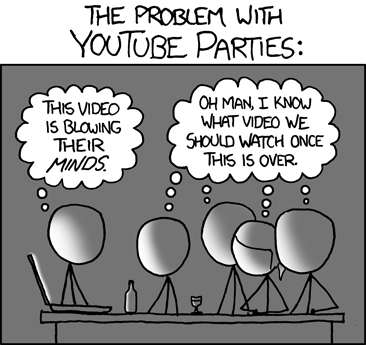 [Comic title: YouTube Parties; alt text: This reminds me of that video where ... no? How have you not seen that? Oh man, let me find it. No, it's ok, we can go back to your video later.]
Randy, I am saying this as a friend: under no circumstances is it acceptable to acknowledge that you think YouTube parties are a thing with a sufficiently large following that you can just casually mention them on your illustrated picto-blag. Do you know what the problem with YouTube parties actually is? THEY ARE FUCKING TERRIBLE.
This comic is nothing more than a trite observation. I'm pretty sure about ninety-five percent of all jokes that have ever been told have been a variation of this one: "man I hate how when you're [talking to people/showing people YouTube videos] they're just waiting for their turn to [talk/show YouTube videos]." Well done, Randy, you've uncovered the universal human truth that people think that they are brilliant and dazzling, but really everyone else is too busy thinking they are brilliant to even notice that you're talking. (A very Randallian trait, but I digress.)
Apart from that, though, this comic is a real shocker--not because of its content, but because Randy, for the first time in ever, has made a
post
acknowledging that he didn't do the joke first. (Don't read the comments on that post. They are depressing.) He has a long history of making jokes which are worryingly similar to other comics, or very recent and highly popular Reddit threads, etc. It's always a comic that we know Randy reads, or Reddit, which is second only to Wikipedia as a substitution for ideas for darling Randall. And this is the internet. I'd be very surprised if every time this happens, Randy hasn't gotten emails noting the similarity.
So why has he suddenly decided to start noting when he accidentally ripped something off? I'm willing to give him the benefit of the doubt and suggest that maybe he's turning over a new leaf and has decided to start doing the classy thing and say "from now on, just like every other webcomics person out there, when a similarity occurs between something I write and something someone else does, I will be cool about it and mention it with a link, instead of pretending it never happened." So let's keep an eye out for more of these. Maybe with time and dedication Randy will become a vaguely acceptable human being.