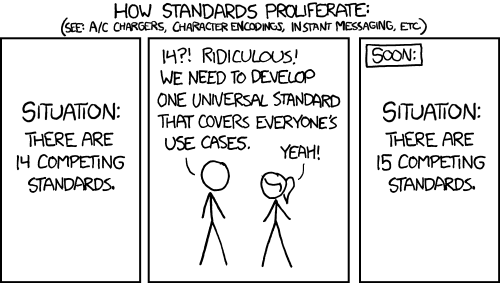 [Comic title: Standards; alt text: Fortunately, the charging one has been solved now that we've all standardized on mini-USB. Or is it micro-USB? Shit.]
I'm not really sure what kind of fantasy world Randy is living in, but apparently he thinks that the reason there are multiple instant messenger clients is because every company that's ever made one has been trying to unite the world under a single banner, to forever get rid of the confusion and conflict that multiple standards causes. Or, put slightly more succinctly, Randy thinks that people are well-meaning but stupid, and that's why there's no inter-compatibility.
There are many causes for this problem, of course. But by and large the reason there's so many standards out there is primarily because nobody is interested in inter-compatibility. Maybe it's a desire to make sure that customers have to buy your product, maybe it's just laziness, maybe it's because you don't like the other standards. The point is, standard proliferation has nothing to do with people trying to solve the problem of standard proliferation. It has to do with competing market forces that don't cooperate with one another.
The alt text is misleading--cell phone companies have standardized on micro-USB, and some media outlets misreported that it was mini-USB. I learned this with about thirty seconds on Wikipedia. Randy, why can't you use the thing that you are in love with so much? Were you really that unwilling to navigate away from the lactation article?
It's not like this is a field in which good jokes can't be told. Randy has just chosen the worst joke of them all, as is traditional.