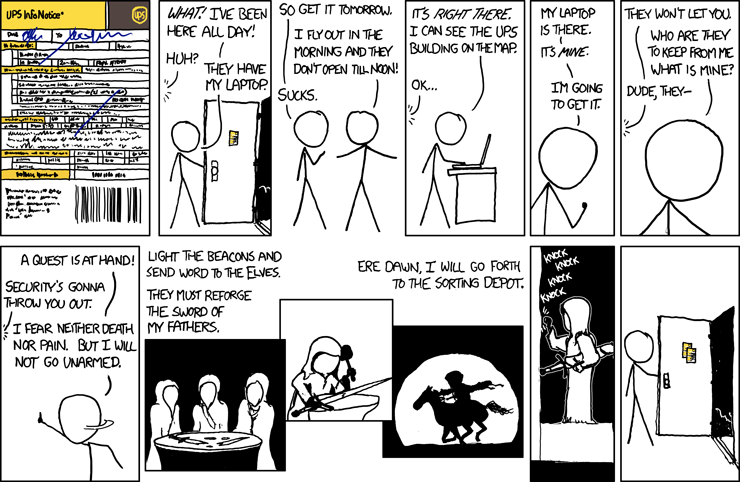 [Comic title: Delivery Notification; alt text: You can arrange a pickup of your sword in Rivendell between the hours of noon and 7:00 PM.]
Ahh, observational humor at its worst. Randy must have ordered a new laptop recently, but due to an excess of time spent in the privacy of what I'm sure he calls the "xkcd control room" masturbating to images of lactating women with Megan's picture plastered over their faces, he missed the UPS guy's knock on the door. How irritating! He has to go down to the UPS place and pick it up now!
But Randy knows that mere observational humor is not enough for his sophisticated audience. They also need a nerd reference, and then a HILARIOUS TWIST at the end where it turns out he was too busy pouring milk over his naked chest to answer the door when the elves delivered the sword he needed for some reason, to take to the UPS place?
This seems like yet another of Randy's forays into the genre of the shaggy dog story. The problem is, even when he uses twelve panels to accomplish something, he just doesn't know how to build anything up. What should be eleven panels of buildup become eleven panels of boring conversation and uninteresting tangents, so when the punchline arrives it's just more of the same. He's failed to build expectation at all, so how is he meant to defy them?
(Also what is with the line "I can see the UPS building on the map"? Is that supposed to make it sound like it's close? Because I can see a lot of things on the map that aren't close to me (jk lol i am so fat all things are close to me).)