[Hated moneybags "Carl Wheeler" sent me this guest review. The lazy fuck. -Ed.]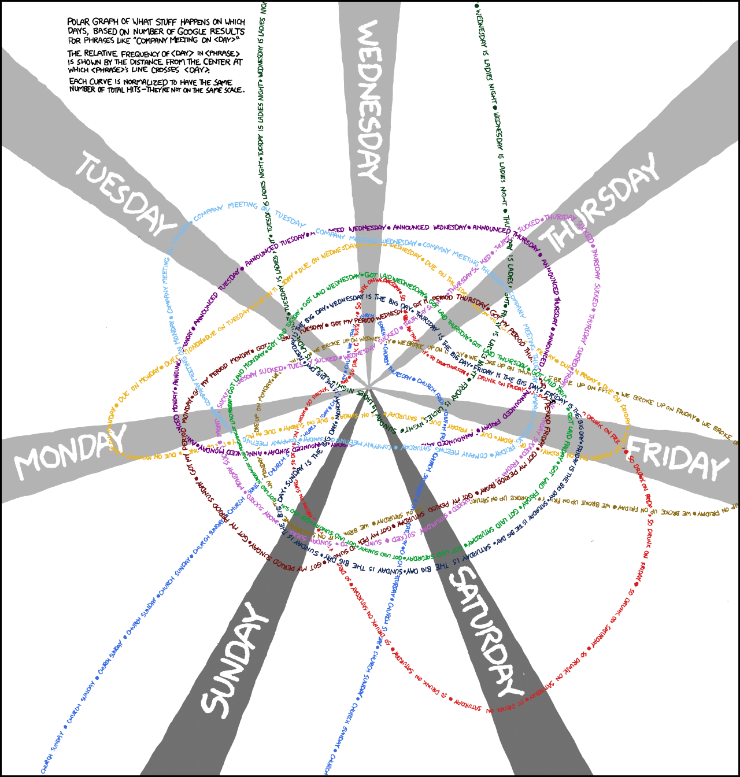 Hello all, Carl again. I was going to write a post about the last comic - the one where a conversation about google plus ends, hilarious, with a crossbow deflating a basketball - but Rob pretty much covered the main issues there (the main issue was: WHY IS THIS HAPPENING). It seemed like such a bad comic, by xkcd standards, that I figured I would have to wait at least a few weeks before another one came along that inspired enough wrath for me to write about it. Well I was wrong.
Actually, that's unfair. This comic doesn't inspire wrath in me, the way some used to. This is just extreme puzzlement, and disappointment.
As you may know / remember / guess, I never liked these google-search-result comics. For one thing, the number of results that google tells you it has are notoriously unreliable, sometimes by an order of magnitude or more. For another, Randall seems to take as gospel that these results are direct proxies for whatever it is that he is interested in. For example, a few years ago, he wrote a comic about google search results for "I should have kissed her" vs "I shouldn't have kissed her." But just looking at the number of results for each one is a terrible measure of whether more people regret kissing versus the number of people who regret not kissing. Plenty of people don't put that stuff online! As a scientist, I'm really kind of surprised Randall thinks that this logic is ok. It's very clearly not.
A similar problem exists here, though it's worse in every imaginable way. For one thing, this research isn't trying to answer an interesting question. For all its flaws, the kissing google search was at least trying to answer the question "is it better to kiss this person and maybe regret it, or not kiss them and maybe regret that?" which I think we can all agree is a pretty interesting question (even if his method of answering has many flaws). But this comic is asking - what, exactly? I guess it's something like "which day of the week do certain things happen on?" That's - that's not very interesting. Take the three most correlated phrase/day pairs:
--Church is strongly associated with Sunday
--Getting drunk is strongly associated with Friday and Saturday
--Ladies night is strongly associated with Wednesday.
# 1 and # 2 are fairly obvious, and #3 is boring. Unless we can learn that there is an interesting reason why ladies night is on wednesday, I don't see how anyone can react to this with more than a "huh."
And those are the best ones! Look in the center and you see things like "[blank]day sucked" or "due on [blank]day." None of them are interesting at all! The dark purple is probably my favorite: "Announced [blank]day." What is that, even? That seems like such a vague term that it could encompass almost any type of event, and when it's that vague, hey, guess what: people are just not going to care.
The other problem is that the text is way crazy small, and constantly overlapping. It makes it very hard to read even the large version, and downright impossible for the regular size.
It's not the clearest way of presenting this data, either. I don't think the polar graph is the best way to go about it, but even it was, wouldn't it have been easier to just use solid lines of different colors and then have a key for which phrase each line represents? This post in the forums is exactly in line with my own feelings.
Actually, is it possible that the forums have gotten to be better? Seems like there's a good debate going about this comic.I find much that I agree with. What a strange experience!
Anyway, keep on rockin',
--Your dear pal Carl